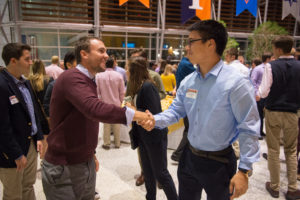 One of the most rewarding parts about Syracuse University is meeting incredible alumni that were once in the exact same position you are.
I've had the opportunity to connect with SU alums from all walks of life. From executives at multi-national corporations to entrepreneurs starting businesses from their parent's houses. I've come to notice they all share a similar trait: an immense passion for Syracuse University.
As a student, you can take advantage of that passion by reaching out to alumni. Here's a secret: SU alumni love talking to SU students.
You can meet alumni everywhere. During homecoming weekend tons of alumni come back to campus for events. You can also reach out to alumni through LinkedIn, an online professional network. Alumni will also come back to campus throughout the year for recruiting and other events.
Here are few simple things you can do to build genuine relationships with SU Alumni:
When you're reaching out to an alumni for the first time, don't do it because you want something
The absolute worst thing you can do when trying to build a real relationships with someone is to reach out to them for the first time and ask for something. It indicates that you're only interested in what they can do for you.
The best way to start a relationship with an alumni is to reach out and ask to learn more about their career. Set up a quick phone call with them to talk about what they do for a living and how they got there.
It's easy to tell when you're talking to someone that's just interested in getting something from you. Before you start reaching out to people, develop a genuine interest in learning about others.
Keep the relationship going
What's worse than having no network? Reaching out to a bunch of people and not following up.
The best relationships are developed over time. Keep in touch with the alumni you connect with by following up with them every couple of months. Keep a spreadsheet of the people you've talked to and what you talked about. It will help you keep track of your professional relationships.
An easy way to initiate follow-up contact with an alumni is by sharing a news article relating to what you talked about last time you spoke, or even better, a piece of SU news they would care about.
Offer your help
This seems trivial, because how could a student possibly help an established alumni? The point of offering help is less about helping someone on the spot and more about letting the person know you want to help them if and when they need it.
You would be surprised how many people could use your help once you start offering it. Relationships are supposed to be mutually beneficial. Everyone has some sort of knowledge or skill they can share with others. Figure out what that is and distribute it.
Written by Daniel Strauss '19, a Finance major in the Whitman School of Management. Daniel is a member of the Daily Orange, the SU Investment Club, Delta Sigma Pi, and Syracuse University Enactus.
More blogs like this: