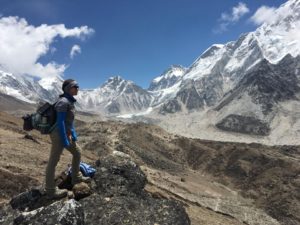 Meet Cassie Cooper '20
Major: Health and Exercise Science
Hometown: West Monroe, NY
High School: Altmar-Parish-Williamstown High School
Activities: Syracuse University Outdoor Club, Commuter Organization Group
Health and Exercise Science has brought a world of opportunity my way. This past semester, I interned at my former high school helping with indoor and outdoor track and I've been able to study in the human performance lab on campus. However, my absolute best experience was spending three weeks trekking to the Base Camp of Mount Everest.

Getting there
The trip started off when my flight to JFK got cancelled. We sped down to NYC and got to the airport with 15 minutes to spare. Our first flight was a 14 hour flight from JFK to Abu Dhabi. We were delayed and missed our connecting flight to Kathmandu. So we stayed overnight in Abu Dhabi, which was fantastic.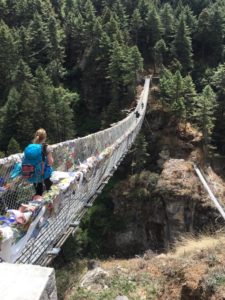 Once we arrived to Kathmandu, we met with the Calgary, Swedish, and University of Michigan teams who were joining us and took another flight to Lukla – which has one of the world's shortest runways. Hold on!
The journey to Base Camp
Our trekking days were long as we went up and down dirt paths. All the locals were incredibly fit and would lug housing materials on their back while wearing flip flops. Meanwhile, we were in hiking boots, using poles, and trying to catch our breath as they sprinted past. At night we stopped at lodges to acclimate. On those rest days, we explored the towns, went shopping, and played cards.
It took us about two weeks to trek up to the Base Camp. I was surprised to see snow on the ground in June! As we passed Gorak Shep to Base Camp, we saw a pack of yaks come through – they'd run into you if you didn't get out of the way! When we arrived to Base Camp, you could see the Khumbu Icefall and there were tons of prayer flags. We all cheered and took dozens of photos. I went down to the glaciers and stood by one – it was massive. To get down to the glaciers, you'd have to slide through the rocks, but the views were incredible.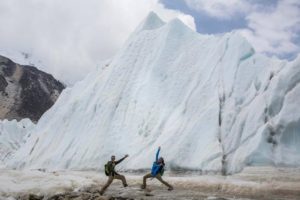 Taking a class at 17,000 ft.
Every rest day, we had a lecture. Topics ranged from decrease in oxygen pressure at high altitudes, to the role genetics might play in altitude sickness, to muscle fatigue. We also learned a lot about the culture in Nepal. To be able to see and interact with the culture firsthand was life-changing. With this trip, we experienced firsthand what we were learning. With the oxygen pressure difference, it wasn't just learning about it but also having to deal with it as you hiked.
What's next?
I initially thought about being an athletic trainer. But after this trip, I'm thinking more about being a paramedic or first responder for outdoor adventurers.
More blogs like this: