My name is Cait Domagal, and I'm a new admissions counselor here at Syracuse University. Part of my role on campus is to recruit students for the College of Arts and Sciences (A&S). To kick off 2020, I set out to see what truly makes the University's largest and oldest college so special and to share it with you – future Syracuse applicants!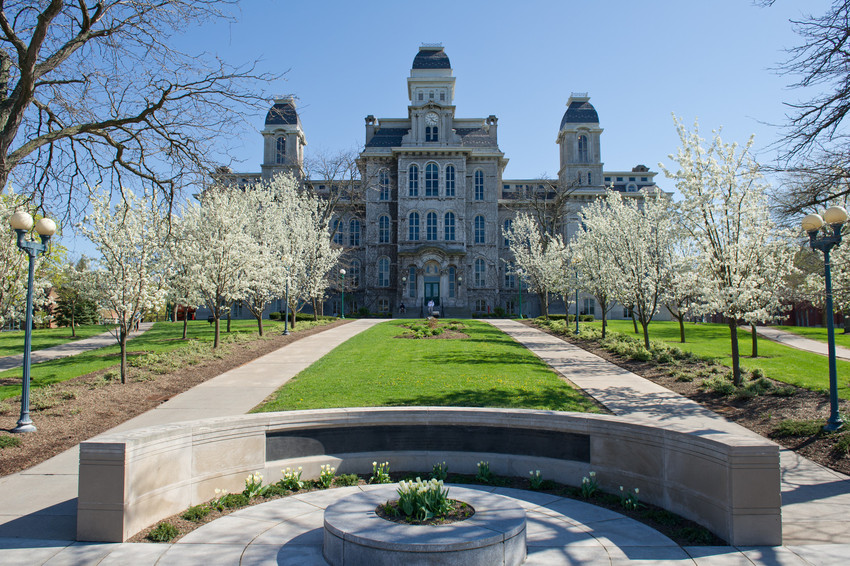 The first thing I learned in my quest to get to know A&S is that the college partners with the nationally ranked Maxwell School of Citizenship and Public Affairs to admit and serve undergraduate students. You'll see me refer to this partnership jointly as "A&S | Maxwell".
I hope you'll follow along with me in this blog series as I explore the Top 20 Reasons to Apply to the College of Arts and Sciences | Maxwell in 2020!
60+ Programs of Study
Are you a student with multiple, diverse academic interests? The A&S | Maxwell is a place for explorers. With over 60 majors in the humanities, natural sciences, social sciences, languages, and mathematics, it's easy to find a program suited to your interests and goals. Not sure what you want to study just yet? No problem. Students have until the end of their sophomore year to declare a major and changing your major within A&S | Maxwell is a seamless process. It is also possible to declare a minor or a second major, if in the end you just can't choose. History buffs with side interests in Latino-Latin American Studies, International Relations, and Citizenship and Civic Engagement, rejoice!
Dual Enrollment Options
A&S | Maxwell offers several dual enrollment options, which allow students to pursue two programs of study concurrently. Students enrolled in dual programs fulfill the requirements of each school and receive one jointly conferred degree that can be completed within four years. Read more about dual and combined enrollment options here!
World-Class Faculty
A&S | Maxwell is home to over 360 renowned faculty members who bring their wide-range of expertise and diverse experience to the classroom every day. Want to study economics with an expert in international trade and investment or public health policy surrounding e-cigarette products with an addiction psychology researcher? Look no further – you'll find these opportunities and countless others in A&S | Maxwell.
Top-Notch Academic Advising
Each school and college at Syracuse University boasts its own advising center. Within A&S | Maxwell, students will be paired with a professional or faculty advisor (or both!) to assist them in selecting a program of study, course mapping, scheduling, and problem solving. Your advisor is there to help you transition to college and make the most of your academic career.
Curated Study Abroad Options
Undergraduate students within A&S | Maxwell are encouraged to study abroad – in fact, over 50% of Syracuse students study abroad at some point during their college experience! With semester and year-long programs, as well as short-term courses conducted over university breaks, you can find something perfect for you. Syracuse has six university centers (London, Madrid, Florence, Strasbourg, Santiago, Hong Kong) as well as partnerships in over 60 countries worldwide.
Research Opportunities at Your Fingertips
No matter your area of study, there are countless opportunities to get involved in research as early as your first year on campus. From studying methods for reducing atmospheric carbon dioxide, researching empathy and emotion regulation in young adults, to examining the effects of voluntourism across the globe, you'll be sure to find an opportunity to match your interests. Need help getting started? The Syracuse Office of Undergraduate Research & Creative Engagement (SOURCE) is there to help you every step of the way, from getting started to finding a faculty mentor and funding for your work.
Pre-Health Advising
Syracuse University's Pre-Health Advising program, housed within A&S, allows students to major in a subject that interests them while ensuring they have the prerequisites and experience needed to pursue a career in medicine and apply to graduate school. Pre-Health advisors work closely with interested students to ensure they are selecting appropriate courses and prerequisites for medical, dental, PT and veterinary school, as well as nursing programs and more! Pre-health students can also find advice on shadowing opportunities, internships, and summer programs. With three hospital systems just down the street from campus, there is no shortage of practical experience to be had at SU!
Pre-Law Advising
A&S is also home to Syracuse University's Pre-Law Advising Our Pre-Law track is an advising program, not an academic major. Students interested in pursuing law school after graduating from college, or a law or policy-related career, can study in any major that might interest them and work with our Pre-Law advisors to ensure they are taking the pre-requisites needed for their goals. Our Pre-Law advisors also work with students to identify appropriate internship, networking, and career opportunities.
Civic Engagement – Your Chance to Make a Difference
In addition to dedicating an entire major on the subject – Citizenship & Civic Engagement – A&S | Maxwell students are encouraged to get involved on campus, in the Syracuse community, and around the world. Whether that means working as a Literacy Corps member through the Shaw Center, leading one of SU's 300 student organizations, serving as a Resident Advisor, volunteering on and off-campus, or attending workshops, presentations, and conferences, Syracuse University students are not afraid to speak up and make positive change. 
Hands-On Experiential Learning
Your Syracuse University education as an A&S | Maxwell student is anything but sedentary. No matter your major of choice, you'll have the opportunity to customize your learning by doing. Whether that means pursuing internships in your field, developing and pitching an original product at Invent@SU, taking classes at a University center in New York, Los Angeles, or Washington, DC, or taking a specialized short-term study abroad course, there are countless opportunities for A&S | Maxwell students to personalize and make the most of their time at SU.