A common misconception about college STEM majors is that they are so busy with required coursework that they don't have time to get fully involved on campus. High school students interested in STEM sometimes worry about their ability to join a club, study abroad, or pursue internship and work experiences.
Ravyn Smith '21, a civil engineering major and architecture minor is living proof you can do all of the above! Read on to learn about how she chose Syracuse and the many extracurricular experiences that have enriched her Syracuse STEM experience.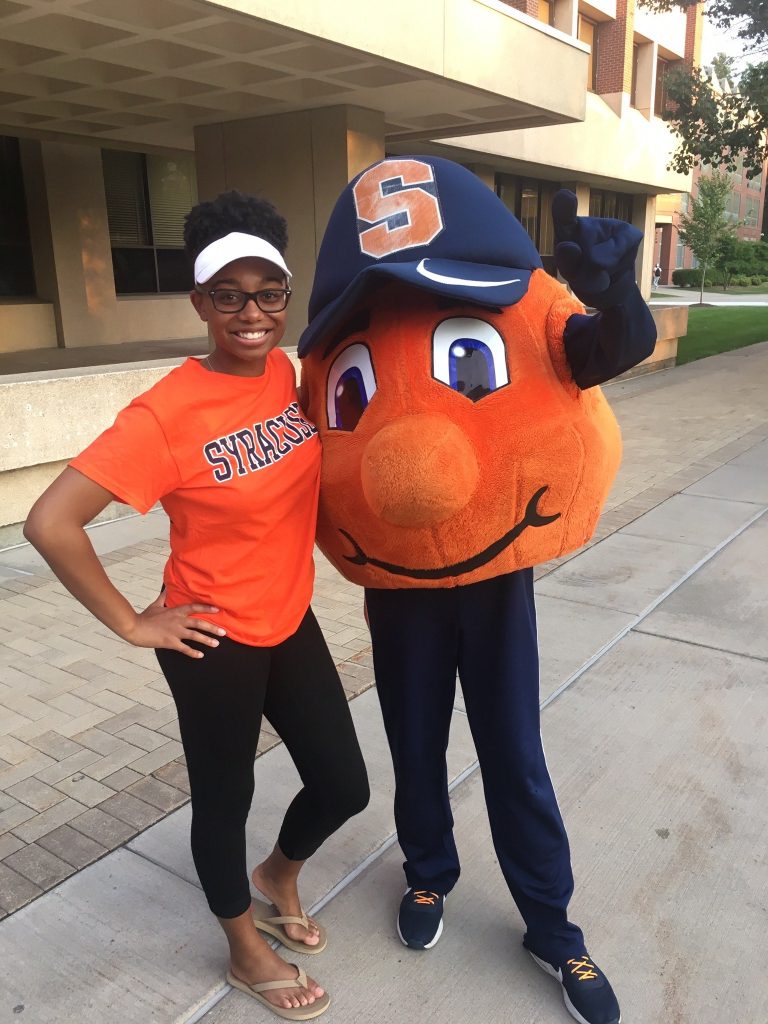 Meet Ravyn Smith '21
Hometown: Chesterfield, VA
Major: Civil Engineering
Minor: Architecture
How did you choose Syracuse?
I knew I was looking for a college with engineering and the ability to minor in architecture. I also wanted to study abroad and a school with a traditional campus feel. When I toured Syracuse, I fell in love with the campus and immediately felt like part of the community. Something about walking to campus from the College Place bus stop and seeing iconic Syracuse buildings like Hendricks Chapel and Carnegie Library on the quad made me feel like this was the definition of college and I wanted to be part of it.
Why civil engineering?
From an early age, I knew I wanted to create. I have always been fascinated with buildings and their different layouts, so when I discovered civil engineering, I knew it was the right fit for me. With more research, I realized how closely related civil engineering was to architecture and I decided I wanted to add an Architecture minor to broaden my building design knowledge.
The Civil Engineering program at Syracuse allows students to get a taste of every specialization within the field so we can learn and decide which aspects interest us the most. I knew from the beginning I wanted to focus on the structural engineering side of civil. After taking some classes in that subject, I could really tell that was the right fit for me. My dream job is to work as an architectural designer because I want to be able to bring people's design visions to life.
What is your favorite class at Syracuse?
One of my all-time favorite classes was ECS 101 Introduction to Engineering and Computer Science – it is extremely hands-on and project based. Within the span of a semester, we got to build bridges, design a mall, and make a presentation on a chosen sector of civil engineering. My replica of the Golden Gate Bridge from freshman year is still on display in the department conference room!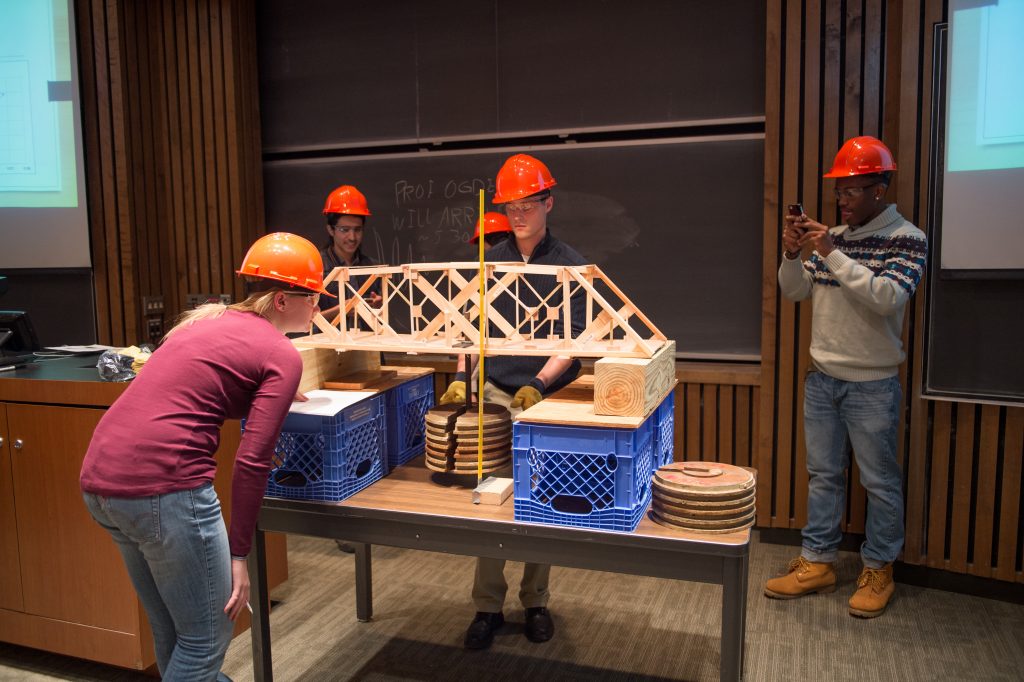 Another one of my favorite classes was ITA 115 Beginning Italian 1. I took this class while studying abroad in Florence; my professor was an amazing Italian woman who shared her passion for Italian culture with us in the classroom. It made me fall in love with Italy!
This fall I am taking Transportation Engineering, Construction Engineering and Engineering Materials, a studio class for my minor – Architectural Drawing, and two fun electives, Professional Baking and Culinary Arts!
What are you involved in outside the classroom?
I'm a member of the Society of Women Engineers (SWE) and the American Society of Civil Engineers (ASCE). Recently, I took the role of Vice President in the professional STEM sorority, Alpha Omega Epsilon, and I'm also the events coordinator for the Professional Fraternity Council. During Welcome Week, I serve as an orientation leader (OL)! Our job is to make sure new students transition successfully to the University and feel at home on campus. I also work with the Shaw Center as an Engineering Ambassadors intern. We take Syracuse STEM students into Syracuse City School District classrooms and teach engineering topics via hands-on activities.
This summer I am interning at the design firm Klepper, Hahn & Hyatt in Syracuse. I applied for this position through the University's job portal, Handshake. Additionally, for Summer 2020, I also received a Syracuse SOURCE grant to participate in research with Dr. Sinead Mac Namara for the second edition of her book Collaborations in Architecture and Engineering.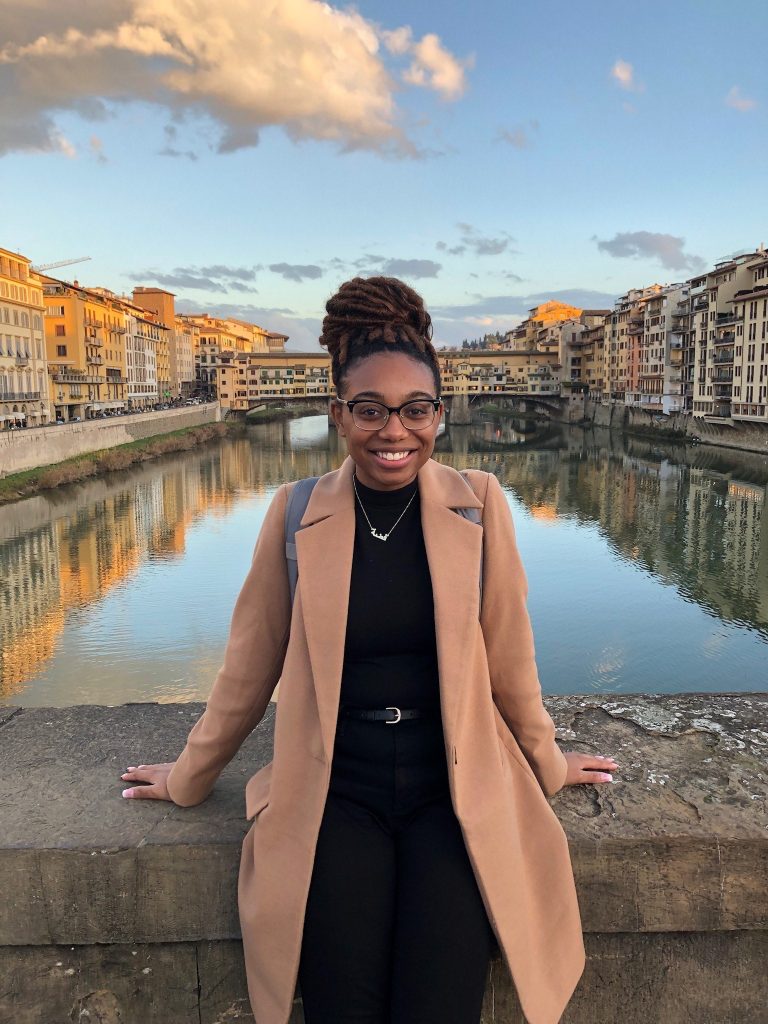 How did you balance a full engineering course load while studying abroad?
In Spring 2019 I went to Italy to study at the Syracuse Abroad Center in Florence. I was able to take all the same classes for my major that students were taking on campus and even got to take a class for my minor. Syracuse really focuses on making the abroad experience achievable for every major and that doesn't change for engineers. The best semester for us to go is spring of our sophomore year because of the alignment of classes. If a class looks like it might not be offered, however, there are advisors within each abroad program to help you jump through those hurdles.
I had an amazing time while in Italy. I got to travel to 5 different countries, learn a new language, and eat as much great Italian food as I could. A lot of my friends also went abroad that semester, so it was even more of a blast with them there. The abroad center even has its own trips around Italy that are included with the program fee!
What advice would you give to students interested in engineering at Syracuse?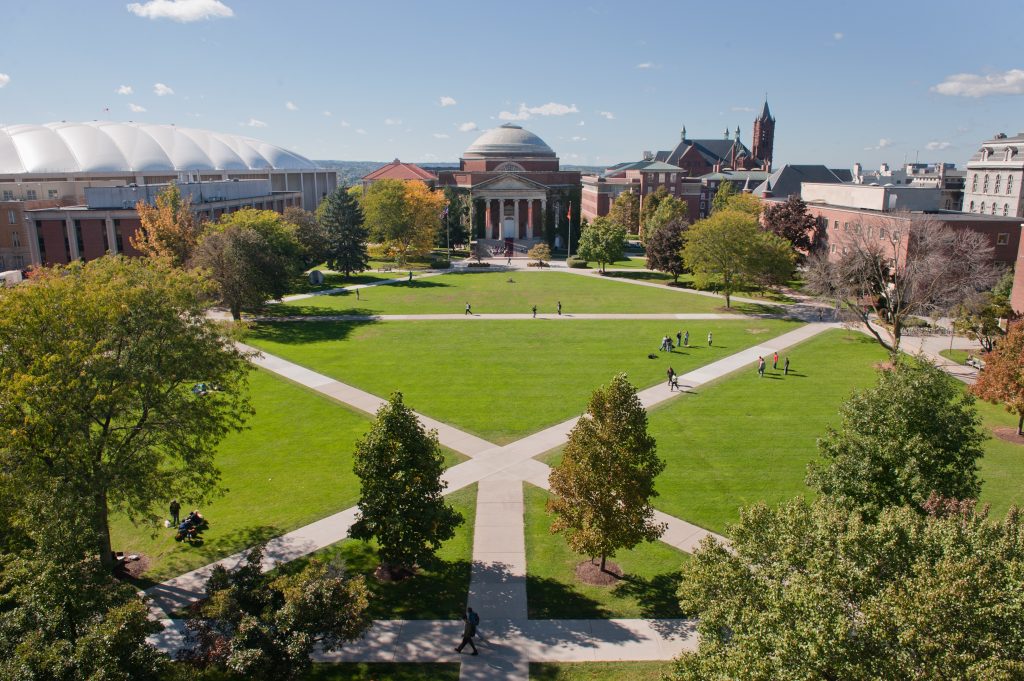 Look at the requirements of each engineering major to see what best aligns with your interests and goals! Also, utilize any and all open house opportunities you can – the best way to see if Syracuse is the place for you is to visit, even if it is a virtual visit.
Syracuse really provides a space for full involvement. Though it might be a big school in terms of students, it has a small school feel where you can walk through campus and recognize at least 20 people. We have 300+ student organizations, and if you don't find something for you, you can always start your own club – one of the people in my freshman dorm started the Curling Club!