Are you looking for a college or university with a strong Indigenous community? Syracuse University is consistently recognized as an institution that leads the nation in Indigenous academic programs and student support services.
Read on to discover a few of the reasons why Admissions Counselor and Native American Liaison Tammy Bluewolf-Kennedy believes Syracuse might be a great fit for you!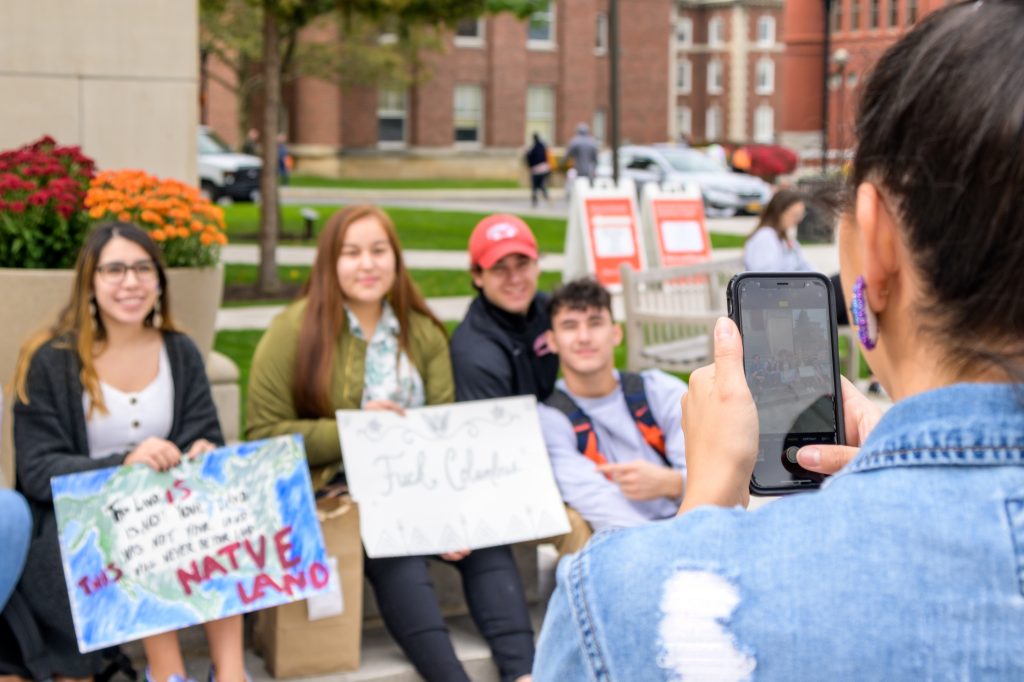 Syracuse University sits on Onondaga Nation ancestral homelands in the heart of Haudenosaunee territory with several Haudenosaunee communities nearby to provide support and ceremony.
The University's adoption of and commitment to the Haudenosaunee Promise Scholarship, Honor Scholarship and Indigenous Pathways Grant help make a Syracuse education affordable for Indigenous students.

The Haudenosaunee flag flies next to the Syracuse University flag on the Quad.

The University community shows respect and value for its partnership with the Onondaga Nation through adoption of a Land Acknowledgement that is read before all major events and by flying the Haudenosaunee Confederacy flag on campus.
Take part in Syracuse's Native Student Program, which offers a home away from home for students and whose dedicated Indigenous faculty and staff, including Assistant Director of the Native Student Program, Office of Multicultural Affairs Regina Jones, are present to mentor and support you through your academic career.
Syracuse officially recognizes Indigenous Peoples' Day and Native Heritage Month with special events, speakers and presentations that celebrate Indigenous cultures and traditions.
Students, no matter what they are studying, can pursue an academic minor in Native American and Indigenous Studies or a certificate in Iroquois Linguistics.
Seeking counseling or group therapy? Request to work with an Indigenous counselor through Syracuse's Barnes Center at the Arch, who provides culturally appropriate mental health support.
Join a tight-knit community of Indigenous students who hail from across North and South America and pursue leadership experience through student groups like Indigenous Students at Syracuse (ISAS).
Request to live in the Indigenous Living Learning Community (LLC) in Haven Hall and attend Indigenous festivals, campus lectures and social activities with fellow LLC students.
Graduates become part of Syracuse's Ongwehonwe Alumni Association, an ever-growing group of Indigenous Orange alumni!