Growing up in a military family, Erin Beaudoin '22 discovered her interest in engineering at a young age. A lover of math and science, Erin observed her father's career as an engineer in the Air Force and knew she wanted to pursue a similar path.
Read on to learn more about how Erin made her way to Syracuse University and declared a major in Mechanical Engineering!
Meet Erin Beaudoin '22, C/1st Lt, AFROTC
Major: Mechanical Engineering
Hometown: Bedford, NH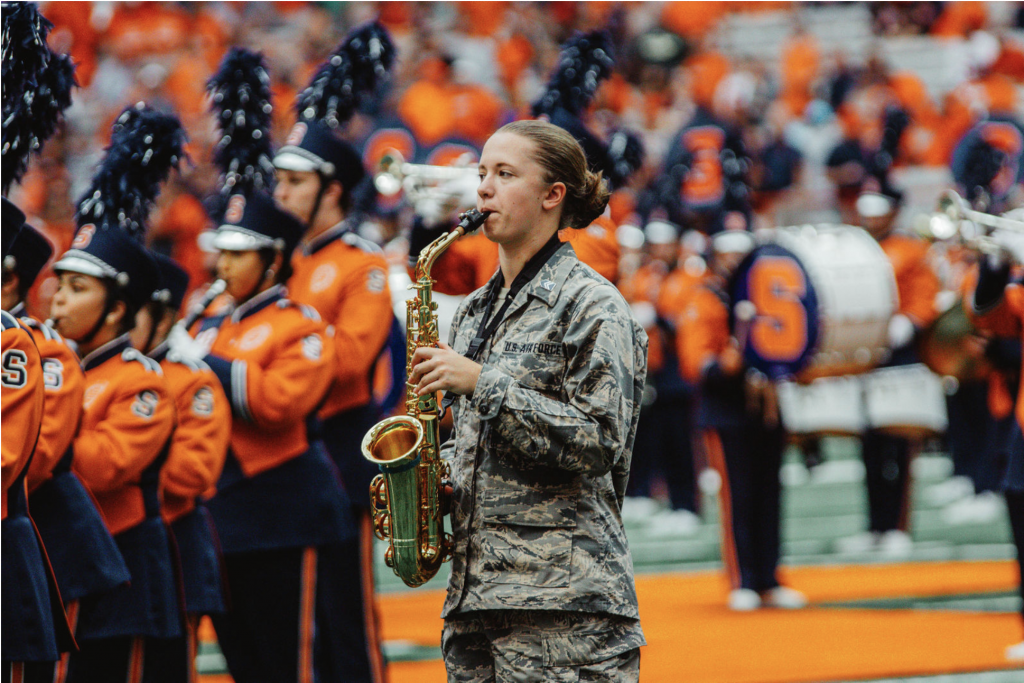 What made you choose Syracuse?
Even though I knew I wanted to study engineering, Syracuse wasn't always at the top of my list. I applied because my sister had researched Syracuse a few years earlier, and I knew it had a good reputation. It wasn't until I toured campus during the spring of my senior year that I fell in love and knew this was the place I wanted to be! Walking around campus just felt like home – I really enjoyed the community feel I got and how happy everyone seemed to be. Everyone I talked to was very genuine.
How did you choose your major?
I knew that no matter what job I pursue in the future, I wanted to make a positive impact on others. Engineering gives me the tools to solve problems I didn't even know existed and can give society the solutions to things we've been struggling with. I love knowing that if something was designed, an engineer had a hand in it.
When I applied to the College of Engineering and Computer Science, I was torn between majoring in Mechanical Engineering and Aerospace Engineering. Ultimately, I chose Mechanical because it will allow me to work across many different fields.
What are you involved in outside of the classroom?
I am an Air Force ROTC cadet. Since my dad was in the military, ROTC was always in the back of my mind. I decided to join ROTC at Syracuse after I committed to attending and it has been a great experience. ROTC has really helped me step out of my comfort zone. In high school, I really shied away from leadership but now I am much more comfortable taking charge. I have ROTC meetings three times per week, including drill and coursework.
I'm also in the Syracuse University Marching Band. I've played alto sax since 5th grade and participated in marching band in high school. At first, I wasn't sure I was going to continue on in to college but decided to go for it! My fellow band members were the first friends I made at Syracuse, since we showed up a week early for rehearsals and band camp. I've found a really great community through marching band and it is a great stress reliever, too!
What are your favorite classes at Syracuse?
I loved PHY 211 – General Physics I. I was very surprised that I liked this class because I hated taking physics in high school. But in college, things actually made sense – everything seemed to click and I understood the material like I never did before. I also enjoyed MAE 284 – Introduction to CAD (Computer Design) with Professor Anderson!
This semester, I'm taking Engineering Analysis, Mechanical and Aerospace Engineering Laboratory, Data Analysis for Engineers, Fluid Mechanics, Introduction to Philosophy and Marching Band (which counts for a 1-credit course each semester).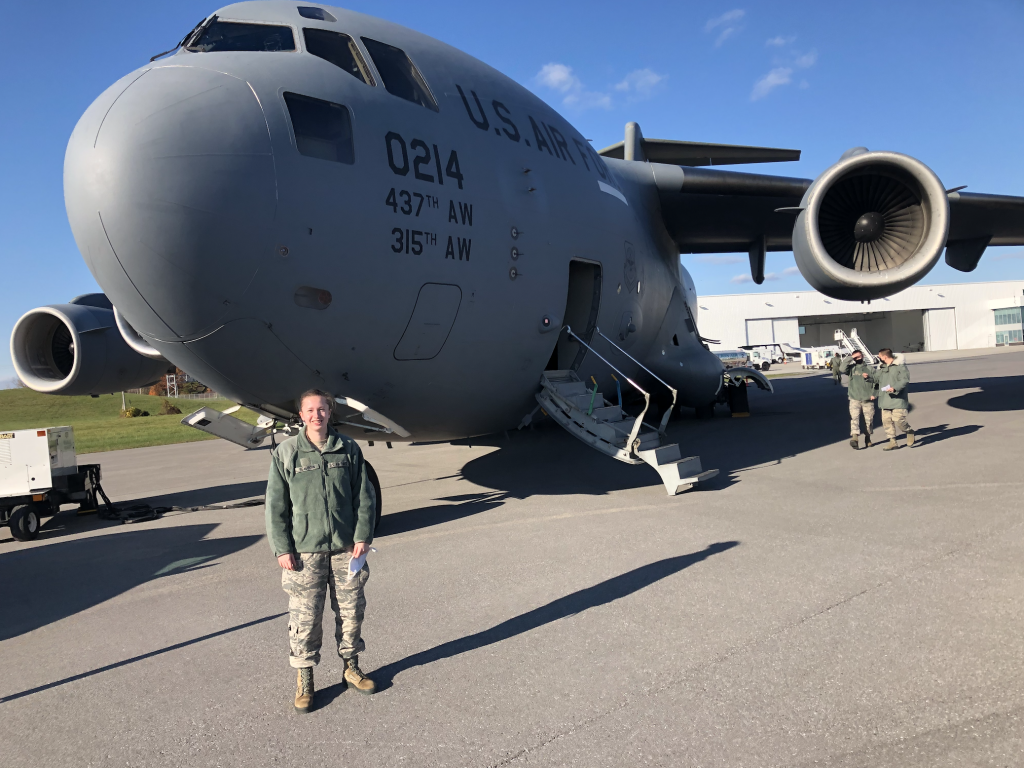 What is your dream job?
Currently, I am planning to become a pilot in the Air Force. Once I leave the Air Force, whenever that may be, I would like to continue working in engineering – possibly with drones and UAV's.
What advice would you give to students interested in ECS or computer science at Syracuse?
Take your first year seriously. It can feel natural to want to brush off introductory courses, but if you do well it is easier for you to keep doing well. Take advantage of all of the resources available to help you, as well – including free tutoring and review sessions and faculty office hours. Buckle down and make sure your first year is a good one!