As a communication and rhetorical studies major, Asajahnique has heightened her understanding of effective listening, writing and critical thinking, while also pursuing a dance minor. Read on to learn about what inspired her academic choices and what she plans to do after graduation.
Hometown: Bronx, NY
Major: Communication and Rhetorical Studies
Minor: Dance Appreciation and Practice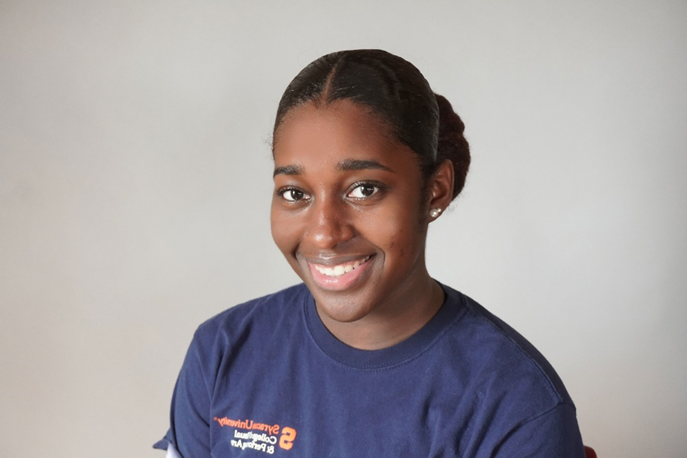 What inspired you to choose Syracuse University?
I chose Syracuse because it was my dream school. I remember making a list of schools to visit, and Syracuse was on that list. It wasn't until I visited campus in November of my senior year of high school that I knew I needed to apply and attend Syracuse. I've always felt welcomed and cared for as a part of this community.
What inspired you to choose your major?
I immediately fell in love with a Communication and Rhetoric class in the fall semester of my freshman year. I've always been a student that enjoys communicating, and I wanted to further explore the science and art of communication. My goal was to continue learning how to make messages more effective, powerful, purposeful and infused with meaning.
What has been your favorite class at Syracuse, and why?
My favorite class has been Interviewing. It's a professional bootcamp where I've learned the skills to create an impactful resume, a website that I still use today, cover letter writing techniques, how to write valuable emails and conduct worthwhile interviews, and even the strategies of creating my own authentic business cards. At the conclusion of the class, we also had the opportunity to create professional dossiers that I still use and show others today.
Can you share what you're involved in outside of the classroom?
I am the coordinator and musical director of the Creations Dance Company- Syracuse University's first dance organization founded in 1977. I'm responsible for the company's main choreography, as well as production of our annual showcases. I'm also the Vice President of the Tantalizing Theta Tau Chapter of Sigma Gamma Rho Sorority, Inc. — a divine 9 organization that emphasizes education, community service and sisterhood. In addition, I'm a College of Visual and Performing Arts student ambassador that actively engages with prospective and admitted students and families to share my Syracuse experiences.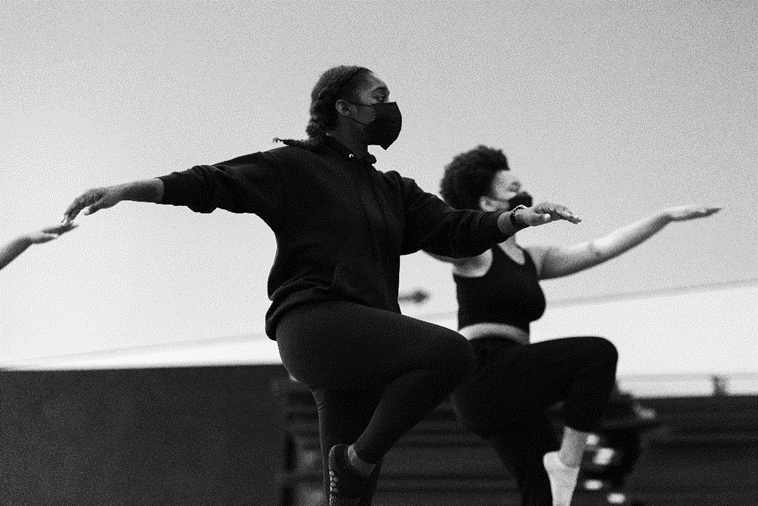 What is your favorite campus location?
The Schine Student Center is my most preferred location on campus. I love that I'm able to grab food and study all in one hub. In addition to dining and studying, I can interact with student organizations that may be showcasing what they have to offer at different times of the day. I spend so much time in Schine — whether it's to attend or support an event, grab food in between classes or meetings, or to just complete coursework and assignments.
What classes are you enrolled in this semester?
This spring semester I'm enrolled in five classes.
CRS 439 — Critical Whiteness Studies with Professor Grimes
WGS 248 — Racial and Ethnic Inequalities with Professor Garcia
DAP 423 — Basic Concepts of Choreography with Professor Ohemeng
DAP 246 — Intermediate Modern 1 with Professor Hanni
FST 422 — Beer and Wine Appreciation with Professor McCoy
What advice would you give to prospective Communication and Rhetorical Studies majors?
My main advice would be to stay open-minded. When I first heard of Communication and Rhetorical Studies, I didn't know much about the curriculum. I kept an open mind about how the classes would benefit and complement my strengths and interests, and I do believe that I've gotten the most out of my major. I've become a better student and well-rounded individual because I didn't close my mind off to the unknown. I'd also encourage students to take the lead and create their own curriculum. I knew early on that part of my focus would be studying nonverbal communication since I'm a dancer, and this led to my declaration of a dance minor. I also wanted to include elements of race and gender and committed myself to taking classes in women and gender studies and African American studies to form my own unique curriculum tailored to my interests.
What is your dream job and/or goals after graduation?
I'll be attending Syracuse University as a graduate student in the department of Communication and Rhetorical Studies. After my master's degree, I hope to go into creative directing and choreography. My long-term goal is to become a professor and pursue teachings in race and gender within the context of performance theory.
Asajahnique hopes to inspire students to take the initiative to craft their own curriculum at Syracuse. The possibilities are endless with over 200 majors and 100 minors and over 300 clubs and organizations for all interests.