Ellen chose Syracuse University with the intention of attending school in the east coast and becoming a well-rounded citizen and practitioner through a program that offered flexibility, eye-opening real-world opportunities, and rewarding internship placements. The citizenship and civic engagement major at Syracuse blends the crosscutting interdisciplinary concerns of the Maxwell School of Citizenship and Public Affairs—policy research, conflict management, community collaboration, civic leadership, and the administration and operation of civil society organizations and government agencies.
Students pair this nationally unique curriculum with any Syracuse major of policy relevance, using the "companion major" as another lens through which to view and contribute to the public good. Ellen chose to complement her Maxwell program with a dual major in political philosophy at Syracuse. Ellen will certainly be graduating Syracuse prepared for careers in the areas of policy, government, public affairs and beyond!
Hometown: Sandpoint, Idaho; Born and raised in France
Majors: Citizenship and Civic Engagement & Political Philosophy in the College of Arts and Sciences | Maxwell School of Citizenship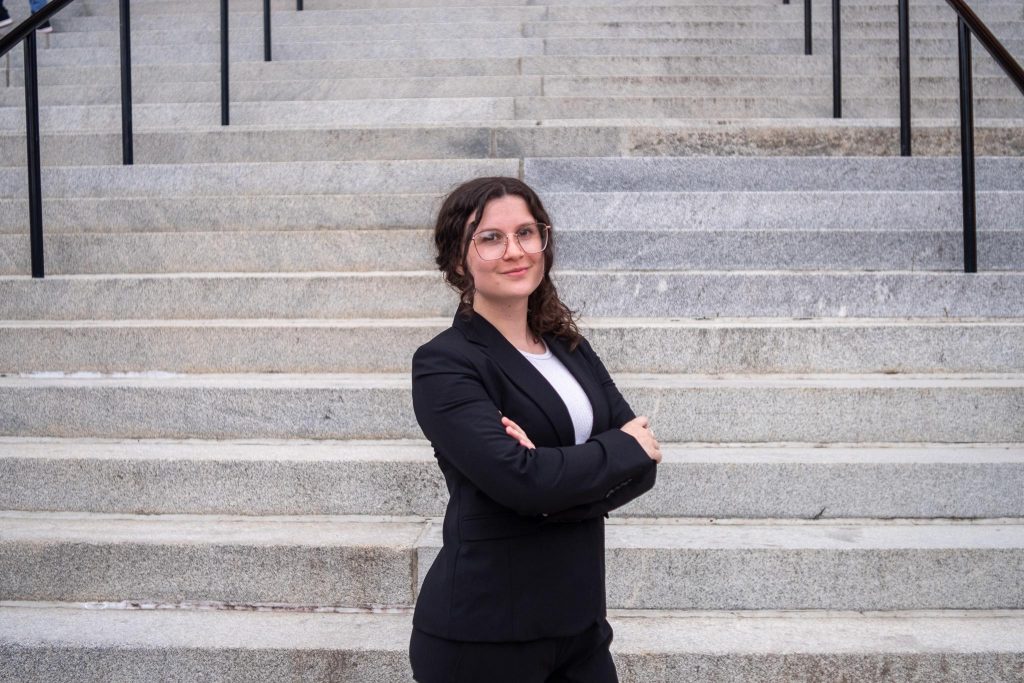 Ellen C. Clark '25
Political Philosophy, B.A.
Citizenship and Civic Engagement B.A.
College of Arts & Sciences | Maxwell School of Citizenship and Public Affairs
Renée Crown University Honors Program
What inspired you to choose Syracuse University?
      In my search for schools that were as far away from Idaho as possible, when I would find a school on the east coast, I'd ask my east-coast-raised mom if she was familiar, and then either add it to the list or move on. When I found Syracuse, I turned to my mom and asked her what she thought. From that moment on, my mom was convinced that Syracuse was going to be where I ended up. She stopped entertaining other schools long before I did because she knew that Syracuse was where I was bound to be.
      After touring a different university, I realized that Syracuse's community was unmatched. The ability to engage so strongly with other schools and colleges really spoke to me, because at other schools, when you're in a particular college, you're locked in, and there isn't a ton of engagement. Here at Syracuse, I know so many people who are double majors in two different schools so that they can perfectly curate the education they're seeking, and I really love that. My own majors also played a role in choosing to go here. Citizenship and Civic Engagement is such a unique program that I absolutely couldn't pass up. However, the thing that still sticks out to me about choosing Syracuse is that it was my Goldilocks school; it was just right. It has just the right amount of athletic and social life that I enjoy, and just the right amount of research opportunities and academic rigor for me to thrive.
What major(s) are you pursuing and what inspired you to choose these areas of study?
      My majors are Citizenship and Civic Engagement, and Political Philosophy. When I was first looking at Syracuse, I came across the Citizenship and Civic Engagement (CCE) major and I was immediately interested in it because of its flexible and personalized approach. CCE allows their students to personalize their education by having a second major (mine is political philosophy) and engaging in coursework and an internship placement that fully relates to whatever the student chooses to study and pursue. I've been able to combine my interests in philosophy with my interests in community work which has been such a unique and rewarding experience.
What has been your favorite class at Syracuse and why?
      I've had too many incredible classes with awesome professors to choose a favorite, but I'd say the ones that have made the greatest impact on me are:
            MAX 201 – Quantitative Methods in the Social Sciences
            PHI 317 – Social Contract Tradition and Its Critics
            PHI 417 – Contemporary Political Philosophy
            HNR 360 – Education in Post-Apartheid South Africa and the U.S. as an Oppressor + Liberator
      Each of these classes has given me something unique and powerful. MAX 201 taught me that I enjoy research and asking questions, which ultimately led me to becoming a Young Research Fellow. PHI 317 taught me that I'm capable of writing my own original pieces of philosophy, which is an achievement I'm extremely proud of. PHI 417 taught me that having incredible professors who believe in you is invaluable, and last but certainly not least, the specific honors course about South Africa allowed me to look beyond my comfort zone and understand systemic issues that face us all. It also inspired me to study abroad in South Africa this summer of 2023!
Can you share what you're involved in outside of the classroom and provide details on your roles in these organizations, clubs, and projects?
I do a bunch of stuff to stay involved and engaged on campus which all bring me so much joy and fulfillment!
I'm a resident advisor (RA) for the Maxwell LLC in Lawrinson, which has taught me so much about community building and problem-solving.
I'm a tour guide with U100, which is the best job I've ever had in my life, I absolutely love sharing how awesome Syracuse is with others.
I'm the president of the philosophy club here on campus and it's been such an incredible experience to have built this club from the ground up after its tragic demise thanks to Covid. I've met so many people who bring forth such unique perspectives and it's been such a treat to create a space where everyone can share them.
I'm the vice president of the New York Zeta Chapter of the philosophy honors society Phi Sigma Tau, which I helped a good friend found this past year to honor high-achieving philosophy students!
I was also elected as the vice president of the community service organization H.E.L.P., which donated hundreds of pounds of food and clothing to local shelters and organizations this past semester, an achievement I'm incredibly proud to have been a part of.
I'm the Logistics Coordinator of our undergraduate Mock Trial team, which has taught me so much about teamwork, and working under pressure.
I'm also a Young Research Fellow, which means that I run my own research program, researching civic engagement, what affects it, and how we can strengthen it.
Finally, I'm a member of our Forever Orange Student Alumni Council (FOSAC), which has truly shown me that once you're Orange, you're ALWAYS Orange!
What is your favorite on-campus location and preferred off-campus location to eat, study, or relax?
      On campus, I love spending time in the CCE office in Eggers Hall. Being surrounded by other driven CCE students is so motivating and it's a great place to get a snack and socialize or get work done! Off-campus, I really enjoyed going to the Salt City Market in downtown Syracuse. I'm a huge fan of the blending of different cultures and the opportunity to try food I've never had before. It's also just a gorgeous building with really great energy.
What classes will you be enrolled in for this upcoming fall semester?
      I'll be taking:
            EAR 117 – Oceanography
            PHI 391 – History of Ethics
            PHI 411 – Race and Identity
            HNR 220 – Collective Conversations
            PHI 397 – Philosophy of Law
            HNR 360 – Activism in the 60s
What advice and tips would you give to prospective applicants interested in pursuing your program/major(s) at Syracuse?
      I would say DO IT! CCE is such a great program because it connects real-world applications to any major of interest and allows you to see how your ideas and goals impact real-world communities. My advice for CCE is to pursue what interests you and what drives you because the foundation that CCE provides will help with all of it. As for political philosophy, I know it's a much more niche major, but for me, it's the perfect blend of history, social science, and policy studies which allows me to consider how we ought to be living together in our communities. Putting my two majors together, I can consider what ought to happen with political philosophy, and then try to find practical applications and solutions for that through CCE.
What is your dream job and goal(s) after graduation?
      I hope to work with communities and non-profits after graduation to try and solve problems such as food insecurity, human rights issues, and political polarization. I plan on moving back to Europe (where I grew up!) to pursue these goals, hopefully on an international scale. I'm not totally sure what I'll end up doing and where I'll be doing it, but I know that Syracuse is going to support me in all my endeavors!