The history major within the Maxwell School of Citizenship and Public Affairs at Syracuse is committed to developing students' writing and research skills to better understand the past, interpret the present, and face the future. History majors learn important skills that employers value, including how to conduct independent research and critically evaluate information.
Dominic has strategically complemented his history coursework with a second major in broadcast and digital journalism within the Newhouse School. He's applying his skills both on the camera and behind the scenes – reporting, researching, writing, editing, news directing and producing for different platforms. All in preparation to work in radio, television and on the web for multimedia news organizations.
Hometown: Miami, Florida
Major(s)|Minor(s): History, Maxwell School of Citizenship and Public Affairs | Broadcast and Digital Journalism, Newhouse School of Public Communications | Spanish minor, College of Arts and Sciences
Graduation Year: 2024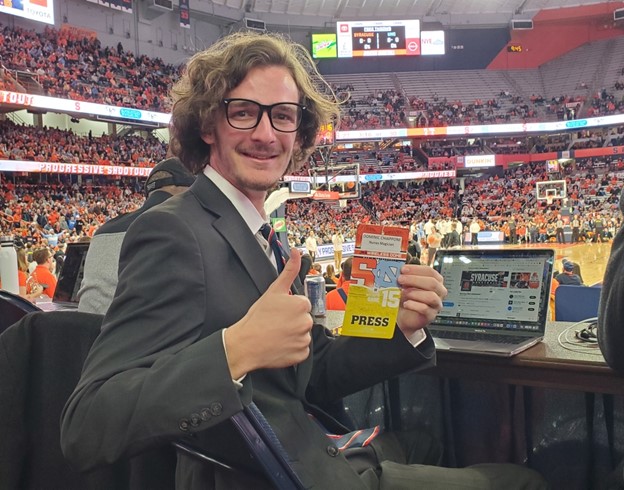 What inspired you to choose Syracuse University?
I come from a background as a prospective student who had no connections to Syracuse University when I was applying to colleges as a high school senior. I never formally toured Syracuse, which makes working as a tour guide for over two years now humorous, in hindsight. I was selected as a Maxwell Leadership Scholar, but I missed out on an official visit to Syracuse by a few days following the shutdown due to the COVID-19 pandemic.
I thought for endless hours about where I would commit, but at the end of the day, Syracuse provided the most opportunities. Syracuse is the ideal place to attend if you want a balance of incredible reputation, outstanding academic achievement and recognition, and unsurpassed school spirit.
Most importantly, it's always about meeting new people for me. I come from what many in my community call "The Miami Bubble." Out of my broader high school community, not many students have chosen to attend college out of state. I decided to take that one step further and travel over 1,400 miles away from home. Syracuse gives you the opportunities to get out of your comfort zone and has allowed me to meet peers I never would have met otherwise. These individuals are now my co-workers, friends and family.
What major(s) are you pursuing and what inspired you to choose these areas of study?
I'm currently double majoring in history as well as broadcast and digital journalism with a minor in Spanish. I've always been a die-hard history nerd since even before high school, and the Maxwell School's reputation as one of the best social science institutions in the country was an important reason why I came to Syracuse. I was so distanced from knowing about Syracuse that I didn't even know about the Newhouse School until I got here, so I made the decision to submit an intra-University transfer after my freshman year and add the broadcast and digital journalism major to my degree studies. It's safe to say that was easily the best life decision I've made up to this point with the endless opportunities I've had as a journalist on campus.
What has been your favorite class at Syracuse and why?
BDJ 353: Television Sports Anchoring and Reporting will always remain #1 on my list and here's why: it embodies what the purpose of a Syracuse education is. At Syracuse, you won't be sitting down in a big lecture hall for eighty minutes and listening. Instead, you will be pushed to your creative limits in a hands-on learning environment. In the context of employment, a big factor is showing something to an employer that you are proud of like a resume, portfolio, reel, paper or anything tangible that I know if I submit, I can be proud of it.
Can you share what you're involved in outside of the classroom and provide details on your roles in these organizations, clubs, and projects?
I've embraced the journalism side of myself and currently work for a few media organizations, including as an assistant news editor for The Daily Orange and a political analyst for CitrusTV's Talking Points and Market Shares shows. Connections with the University allowed me to pick up a gig with SB Nation's Nunesmagician.com, where I work covering men's and women's basketball and have gotten endless opportunities to write and create content.
I've also been a University100 team member since my freshman year, giving tours to families and providing them with an unforgettable experience that I never got but always wished I had. I also currently work as an intern for Senator Chuck Schumer at his Syracuse office, and I'll be working this summer for Senator Schumer in Washington DC as a press intern.
Recently, I was selected as a Remembrance Scholar for the 2023-2024 academic year and will also continue my role as an Honors Peer Mentor for Syracuse's Honors Program.
What is your favorite on campus location and preferred off campus location to eat, study, or relax?
Destiny USA is always a memorable time for an off-campus adventure, but downtown Syracuse has some of the best restaurants I've been to. The Westcott neighborhood is home to a few favorite dining experiences, including Rise 'n Shine, among others.
What classes will you be enrolled in for this upcoming fall semester?
BDJ 342 – TV/Digital News Reporting
JNL 345 – Journalism Business and Ethics
COM 505 – Communications Law for Journalists
SPA 402 – Hispanic Journalistic Practice
What advice and tips would you give to prospective applicants interested in pursuing your program/majors at Syracuse?
Don't be afraid to take risks, as one of my interviewees for a Daily Orange story I did (Christopher Perello) told me. This is a school all about making it worth your while with the opportunities you can have in and out of the classroom.
What is your dream job(s) and goal(s) after graduation?
Sports journalism has been my recent passion, especially opportunities to cover college sports as a beat writer!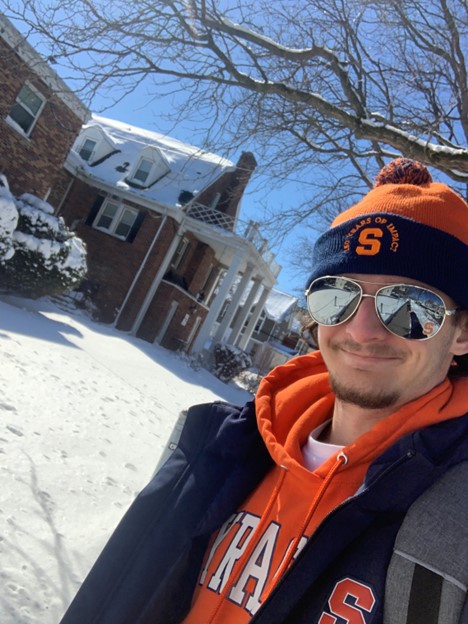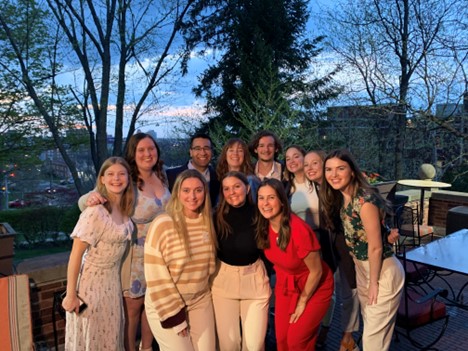 Additional context: https://www.syracuse.edu/stories/dominic-chiappone-academic-path/
Portfolio Website: https://dchiappone20.wixsite.com/portfolio