The sport management major within the Falk College of Sport and Human Dynamics at Syracuse is a true ticket into one of the largest and most exciting industries in the world. A combination of program-specific courses, professional electives, and liberal arts requirements are positioning Erin to turn her passion for sports into a rewarding career in sport business, finance, athletic planning, sports organization management, and far beyond.
To complement her major, Erin is simultaneously pursuing a minor in emerging sports enterprise – an 18-credit minor designed to provide students with the knowledge and skills required to be successful in an increasingly entrepreneurial and evolving sport industry. Erin has the opportunity to customize the minor with classes focusing on areas of interest such as entrepreneurship in sport, Name, Image and Likeness (NIL) management, revenue generating functions such as sport sponsorship and ticket sales, digital and social media marketing in sport, esports management, and additional areas of interest to be developed as the industry continues to evolve.
Hometown: Wappingers Falls, New York
Major(s)|Minor(s): Sport Management Major, Falk College of Sport and Human Dynamics| Emerging Sports Enterprise Minor| Renée Crown University Honors Program
Graduation Year: 2025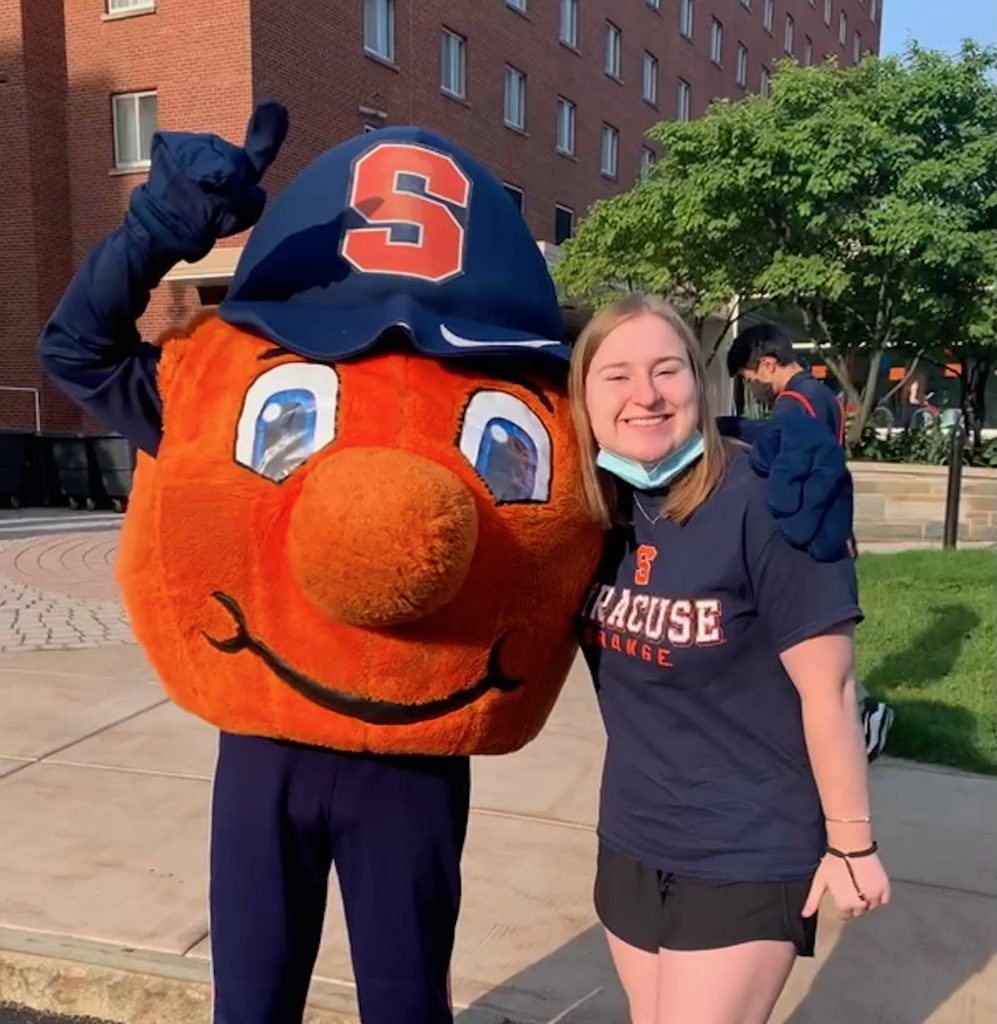 What inspired you to choose Syracuse University?
When I was applying to colleges in 2021, the world was still on lockdown. Everything that I learned from schools was what I was able to grasp from websites and self-guided tours. This made it hard to get a true understanding of what I needed in a university. Luckily, Syracuse hosted an admitted student's event on campus just before decision day. From the moment I stepped foot on campus, it was evident that every staff member and student was excited to help prospective students like me. This is something about Syracuse that has yet to falter since I officially committed. The Orange community is so passionate about seeing their students succeed!
What major(s) are you pursuing and what inspired you to choose these areas of study?
I am studying Sport Management with a minor in Emerging Sport Enterprise. I grew up doing sports, so I always knew it was a passion of mine. However, something that really draws me to sports is that the industry is always changing. I love hearing from industry professionals who say that they have never had the same day twice!
What has been your favorite class at Syracuse and why?
My favorite class that I've taken at Syracuse was SPM 330: Name, Image, Likeness taught by Professor Dave Meluni. Professor Meluni often quotes that Syracuse was the first school to offer a class for NIL! I loved this class because it allowed me to gain insight into one of the newest aspects of the sport industry. In the class, each student was paired with a student-athlete from Syracuse's women's lacrosse team. I was lucky enough to be paired with Megan Carney, an All-American and World Champion lacrosse player. For my final project, I created a personalized marketing deck for Megan that included elements like a merchandise line, social media infographics, and five prospective brands for a potential NIL deal. I loved being able to create this NIL deck for Megan because it gave me experience in a part of the sport industry that many industry professionals are still trying to figure out. We also got the chance to hear from some amazing guest speakers that prompted intriguing class discussions. I just wish I was allowed to take this class again because I know that the developing world of NIL would provide a totally different experience each time!
Can you share what you're involved in outside of the classroom and provide details on your roles in these organizations, clubs, and projects?
I am involved with many organizations at Syracuse. Firstly, I am a University 100 tour guide. I love being a part of the admissions process for prospective families to answer their questions and show them our university. Since this was an experience that I missed out on when applying to colleges, it is fulfilling to now get the opportunity to help new prospective students and families!
Additionally, I am an intern with Syracuse University Athletic Communications. In this role, I work both in the office and on game days with Syracuse's Sports Information Directors. I love being an intern at SUAC because it allows me to gain experience in the sport industry right on campus. In this past year alone, I was able to work with Syracuse's football, men's basketball, women's basketball, field hockey, men's lacrosse, women's lacrosse, and volleyball teams. I even got the opportunity to write pre-game stories for the men's lacrosse team that were shared on Syracuse Athletics' website, Cuse.com!
I am also the Communications Chair for Women in Sports & Events. This is a student organization that provides networking opportunities and professional development activities for women who are pursuing careers in sports. At the end of the most recent semester, I was lucky enough to attend an immersion trip with members of WISE! We traveled to Boston and got to network with industry professionals from the Boston Celtics, Boston Bruins, Gillette Stadium, Fenway Sports Management, ISlide, and so many more incredible organizations!
Finally, I am a member of Sport Management Club. My favorite thing about being a member of SPM Club is working on our annual Charity Sports Auction. Each year, SPM Club chooses a CNY charity to be the beneficiary of the auction. Then, we spend the entire semester gathering donation items, marketing the auction, and finding sponsors to partner with us for the event. The semester culminates with SPM Club hosting the auction in the backcourt of the JMA Wireless Dome during a men's basketball game. Last year, we raised over $52,000 for Vera House in a single weekend. It is so rewarding to not just give back to the Syracuse and CNY community, but also build lasting relationships with other members of SPM Club along the way.
What is your favorite on campus location and preferred off campus location to eat, study, or relax?
My favorite spot on campus is Falk Cafe. As a student of Falk College, I love going to Falk Cafe because I always see a familiar face! I also think Falk Cafe has the best food of all the academic cafes around campus. My favorite spot to get food off-campus is Original Italian Pizza, or OIP. OIP often gets overlooked because of the popularity of Varsity, but its location in relation to South Campus made it the go-to spot for my roommates and me over the past year.
What classes will you be enrolled in for this upcoming fall semester?
In the fall, I will be taking five different classes. – SPM 345 – Technology in Sport Management – SPM 365 – Sport Economics – FIN 301 – Essentials of Finance – EEE 378 – Imagination, Entrepreneurship, and Creative Problem Solving – WRT 307 – Advanced Writing Studio: Professional Writing
What advice and tips would you give to prospective applicants interested in pursuing your program/majors at Syracuse?
My biggest advice to applicants is to take advantage of the events that Syracuse offers for prospective students. From campus tours, to Q&A panels, to even getting the opportunity to sit in on a class, the events that Syracuse hosts will be so beneficial in helping you learn what SU has to offer! For students interested in a career in the sport industry, you won't regret choosing Falk College's program. We are given so many hands-on opportunities to grow as professionals, as leaders, and as human beings. I have loved every second of my time in Syracuse's Sport Management program!
What is your dream job and goal(s) after graduation? My answer to this question changes almost every day. With every new thing that I learn about the sport industry, I learn of a new career or job that I wasn't aware of before! However, I've always had a passion for college athletics. It would be my dream to work for a Power 5 school's athletic department.