The electrical engineering major within the College of Engineering and Computer Science at Syracuse empowers students to become part of an exceptionally collaborative group who combine knowledge, problem solving ability, leadership and communication skills to set a new industry standard in engineering. Interdisciplinary learning is helping Ellie tackle diverse challenges in cybersecurity, robotic controls, treatment of disease, optical and satellite communications, microelectronics for computers and beyond. Within the College of Engineering and Computer Science, future engineers and computer scientists learn to create new knowledge and technologies through ten undergraduate majors. Students have access to nationally regarded research centers, state-of-the-art lab spaces and challenging internships.
Additionally, Ellie continues to challenge herself with a dual minor in logic and mathematics within the College of Arts and Sciences. The College of Arts and Sciences | Maxwell offers a broad array of exciting degree programs and experiences in the sciences and mathematics, the humanities and social sciences.
Major(s)|Minor(s): Electrical Engineering, College of Engineering and Computer Science| Logic and Mathematics minors, College of Arts and Sciences| Renée Crown University Honors Program
Graduation Year: 2026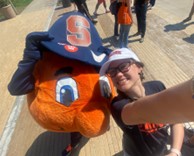 What inspired you to choose Syracuse University?
I was indecisive regarding what I was looking for in a college. My mom used to always joke that the tours were pointless because I said I could be happy at every school we visited. When I visited Syracuse, I thought it might be too big or not what I was looking for, but the opposite was true. Every concern that I had disappeared after meeting with the dean and faculty working in the admissions offices of my college. I knew that I wanted a big school, but somewhere where I could still have my small community and being able to meet with these people really helped solidify my confidence in Syracuse.
What major(s) are you pursuing and what inspired you to choose these areas of study?
I am currently an electrical engineering major with a dual minor in logic and mathematics. I ended up switching my major three times my freshman year, and finally settled on electrical engineering. I really love the flexibility you have in changing your major, even in a very structured curriculum such as engineering. I ended up with my minors because I really loved the classes that I took my first year, and because I was ahead on credits as well as the flexibility of my electives, I was able to add both.
What has been your favorite class at Syracuse and why?
My favorite class so far at Syracuse has been Linear Systems and Linear Systems Lab (ELE 251 and ELE 292). This is the class that inspired me to change my major to electrical engineering. I really enjoyed the hands-on aspect of the class, and seeing in real-time the way that manipulating circuits could change their outputs was really interesting.
Can you share what you're involved in outside of the classroom and provide details on your roles in these organizations, clubs, and projects?
Outside of the classroom, I'm involved in several organizations across campus. I give campus tours through University100, our student tour guide organization. I also hold a chair position for the Syracuse chapter of IEEE, the Institute of Electrical and Electronics Engineers. Additionally, I work with the College of Engineering and Computer Science admissions office through their ECS Excelerators program, and I am a brother of our professional technology fraternity and I hold a chair position for this organization as well.
What is your favorite on campus location and preferred off campus location to eat, study, or relax?
My favorite on campus location to study is definitely the fourth floor of Link Hall. If you ask any other engineering student, they will probably agree. The view of the quad is stunning from above, and it's a super convenient spot for studying before or after class!
What classes will you be enrolled in for this upcoming fall semester?
This upcoming semester I'm taking a few interesting classes including:
ECS 392 (Ethical Aspects of Engineering and Computer Science)

ELE 231 and 291 (Electrical Engineering Fundamentals and Lab)

PHY 212 and 222 (General Physics II and Lab)

MAT 375 (Introduction to Abstract Mathematics)

MAT 485 (Differential Equations and Matrix Algebra for Engineers)

HNR 220 (O.U.R. L.E.A.D.E.R.S.H.I.P. Collective Conversations) – This class focuses on the analysis of ideology and political socialization with an emphasis on public deliberation)
What advice and tips would you give to prospective applicants interested in pursuing your program/majors at Syracuse?
For students going into engineering specifically, don't be afraid to take a class or join an organization outside of engineering or STEM in general. Some of the most incredible people I have met and friends I have made have come from the classes that have had nothing to do with my major. Additionally, join the Living Learning Community! Engineering is not a degree you achieve by yourself, and being surrounded by peers who are more than willing to help you is a great way to meet people and do well in your classes! As an applicant, definitely show that you are well rounded and have experience doing things other than engineering. I know it seems counterintuitive, but the skills you will take away from these other activities will make you a better engineer, and a more well-rounded applicant.
What is your dream job and goal(s) after graduation?
After I graduate, I definitely want to travel; I love exploring new places and seeing what makes each place unique! Eventually, I hope to get my doctorate in Electrical or Electronics Engineering. I hope to work in hardware component design and maybe even become a professor.