The Magazine, News and Digital Journalism major within the Newhouse School of Public Communications at Syracuse highlights storytelling as the foundation on which you showcase your talent and build the reporting, writing, editing and visual skills you need to stand out in a competitive field. Twenty-first century journalism demands diverse skills to craft compelling stories across platforms. The Newhouse major teaches you how to reach your audience, no matter where they are while maintaining the passion and integrity that have made journalism a calling for generations of reporters. Cole is preparing to report, write and edit, as well as produce visual content for ever-growing online platforms and print media.
Simultaneously, Cole pursues a dual major in Spanish Language, Literature and Culture within the College of Arts and Sciences. The major is helping him become even more marketable with the added fluency of a second language. Students enhance their Spanish language skills – the third most spoken language in the world. Additionally, the major explores the literary and linguistic cultures of the Spanish, South American, Central American, Caribbean and Latino peoples.
In addition to a dual major, Cole ambitiously pursues two minors in Information Technology and Management and Sport Management. Information and technology play an important role in how companies operate. Cole is discovering how collecting, organizing, and understanding information can drive business success, in addition to learning how to design information systems and manage technology solutions. And the sport management minor is giving him the tools to possibly pursue a career in the sport industry. Students selecting this minor have an interest in learning about the business, communications, marketing, event planning, economic, global and legal aspects of the sport industry.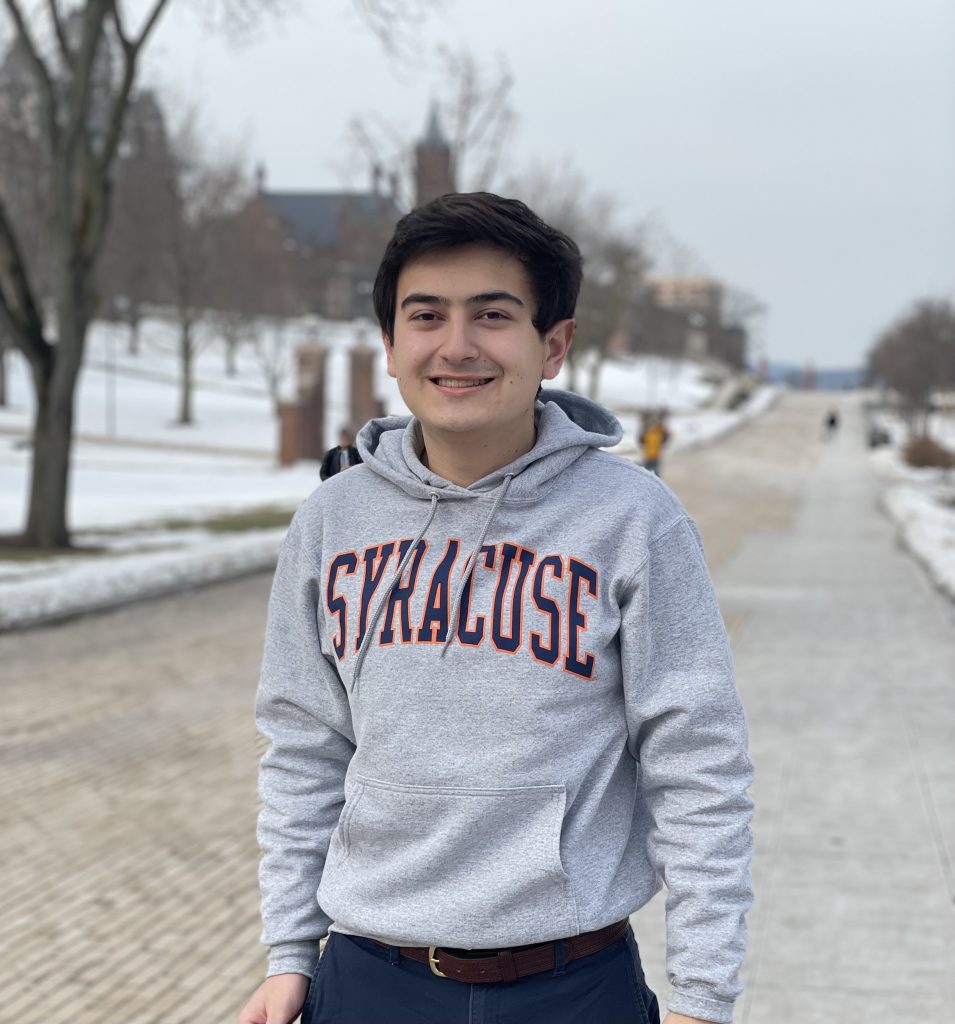 Hometown: Charlotte, North Carolina
Major(s)|Minor(s): Magazine, News and Digital Journalism Major, Newhouse School of Public Communications| Spanish Language, Literature and Culture Major, College of Arts and Sciences| Information Technology and Management Minor, School of Information Studies| Sport Management Minor, Falk College of Sport and Human Dynamics
Graduation Year: 2024
What inspired you to choose Syracuse University?
When I was finalizing my college decision, Syracuse's dual program between Newhouse/Arts & Sciences was the only program that guaranteed both majors my freshman year. With the help of AP credit, I was able to get right into major-specific courses as soon as I stepped a foot on campus. Furthermore, I really wanted to study abroad, and Syracuse's centers and programs globally made it a seamless reality. In shorter words, the academics, extra-curriculars, campus life and study abroad is why I chose Syracuse University.
What major(s) are you pursuing and what inspired you to choose these areas of study?
Magazine, News & Digital Journalism
Spanish Language, Literature & Culture
I always knew I wanted to study media and journalism when I entered college and Syracuse's program is one of the best in the country. I was originally a broadcast journalism major, but I realized after my first semester that I liked the writing, online and digital aspect more than the on-air and television production. Plus, getting involved early on helped with the change of major too. As for Spanish, I always excelled in the subject from kindergarten to high school and I know learning a second language makes yourself very marketable. Many people ask me why I major in Spanish – I say learning language and culture is hobby of mine while it also can help me professionally.
My Minors:
Information Management & Technology
Sport Management
Tech and data are becoming for integrated into the journalism field and I knew the iSchool's program could complement my studies. I've taken courses on web-design, human-centered design and business communication. As for sport management, my journalistic goals and involvement are centered around sports. It's my main passion. Learning how sports integrates with a changing society is important to know especially when you're conveying factual information as a journalist.
What has been your favorite class at Syracuse and why?
This is tough, there's many to choose from. I'll choose one for each of my majors.
JNL 345 – Business & Ethics of Journalism in a Changing World
SPA 400 – Spanish Media, Film & Pop-Culture (Syracuse Madrid Center)
JNL 345 delves into real-world ethical issues of journalism and how we as journalists should approach certain situations when we get there. The class is case-study based so even though it was about 70 people, people could easily participate. Furthermore, the professor included examples from news, sports, entertainment, and politics to fit everyone's interests.
SPA 400 – When I studied abroad in Madrid (Summer 2021), I took this course about Spanish media and how that plays a role in the nation's society. We immersed ourselves in the culture, going out into the city to the various neighborhoods to learn about the culture. The course spanned from historical Spain to contemporary Spain.
Can you share what you're involved in outside of the classroom and provide details on your roles in these organizations, clubs, and projects?
The Daily Orange – this is my main involvement on campus. I've been with the publication since the fall of my freshman year. I work in Sports and just finished up my term as Sports Editor this past spring. One of my favorite highlights is covering SU men's soccer national championship win in December 2022, in-person. In addition to editing, I've reported on women's lacrosse, men's soccer, volleyball, rowing and I will do men's basketball in the winter. I have also traveled to Boston, Raleigh, Winston-Salem, Ithaca, Greensboro to cover sporting events for the D.O – not on my dime 🙂
Peer Advisor Newhouse School – I help with freshmen as they acclimate to life on campus and specifically the Newhouse School. I also served as a teacher's assistant for COM 100, a introductory seminar for Newhouse freshmen and I was able to share my experiences and advise with them.
Global Ambassador for SU Abroad – I represent my abroad programs and provide information to any student that is interested in studying abroad. I'm currently on my second abroad trip (EuroTech) and I highly recommend studying abroad
Abroad Programs
Madrid, Summer 2021 – With my Spanish major, I knew I wanted to study abroad in a Spanish-speaking country, and so Syracuse's Madrid program made that possible. Because with two majors and two minors is complicated, I chose summer after my freshman year to easily fit into my degree. I also knew I was a little young to get an internship, so rather than taking a job back home, I did something more adventurous. While at SU Madrid, I took two courses for 6 credits: SPA 300 – Spanish Society & Culture, SPA 400 – Media, Film & Pop-Culture. Even though we couldn't travel outside of Spain because of pandemic restrictions, I still traveled to Barcelona, Valencia, Segovia and Toledo while being based in Madrid.
EuroTech, Short-Term, Summer 2023 – I knew I wanted to study abroad again, and I just didn't know how at first, but these short term programs fit the bill. EuroTech is through the iSchool and for my minor, I am part of the program where we take a class called IST 360 (Global Enterprise Technology) and go abroad all over Europe. We learn how companies integrate tech, data, AI, etc. into their business practices especially in a changing world. On this trip, We have visited Oslo, Norway; Copenhagen, Denmark; Lund, Sweden; Malmö, Sweden; Hamburg, Germany; Berlin, Germany; Brussels, Belgium; Paris, France; Turin, Italy; and Milan, Italy. Some companies included in the 16-day trip include Accenture, Space10, NNIT, the European Union Commission, and Siemens Energy.
Syracuse makes it seamless to study abroad multiple times. As I write this, I'm on a train from Berlin to Brussels for my second abroad program.
What is your favorite on campus location and preferred off campus location to eat, study, or relax?
On-campus: I'd say Food. com in Newhouse. I spend a lot of my time there. They have great breakfast sandwiches and smoothies.
Off-campus: Recess Coffee is Westcott is a calm spot. I also enjoy going to the various restaurants downtown such as Dinosaur BBQ & Pastabilities.
What classes will you be enrolled in for this upcoming fall semester?
COM 505 – Communications Law for Journalists
JNL 530 – International Reporting
IST 195 – Introduction to Information Technologies
SPM 348 – Digital Media in Sport
(I'm also taking FST 422 Beer & Wine Appreciation, but I didn't include that in the main list)
What advice and tips would you give to prospective applicants interested in pursuing your program/majors at Syracuse?
You can really customize your MND major. I personally focused on newspaper and online journalism, but some people prefer data journalism or magazine-based writing. I also think getting involved is what makes your experience in the classroom better. I love sports, but the major isn't based on sports. So, I became heavily involved in the Daily Orange Sports' Section and picked up a Sport Management minor to complement. Newhouse teaches you the skills to be a great journalist, but your involvement is how you customize and personalize your experience. As for Spanish, I really enjoy traveling and learning about culture. I got to apply my Spanish major in Spain. Plus, the courses aren't solely grammar/vocab based. As you make your way up, you can take literature or culture-based courses. I've taken SPA courses such as Hispanic Journalistic Practices & Teaching Methodologies for Second-Language Acquisition.
What is your dream job and goal(s) after graduation?
I don't know exactly, but I want to do something in the sport communications/media field that incorporates international travel. With my majors and minors, I will have a vast skillset to which I think I can apply to many companies, publications and beyond.