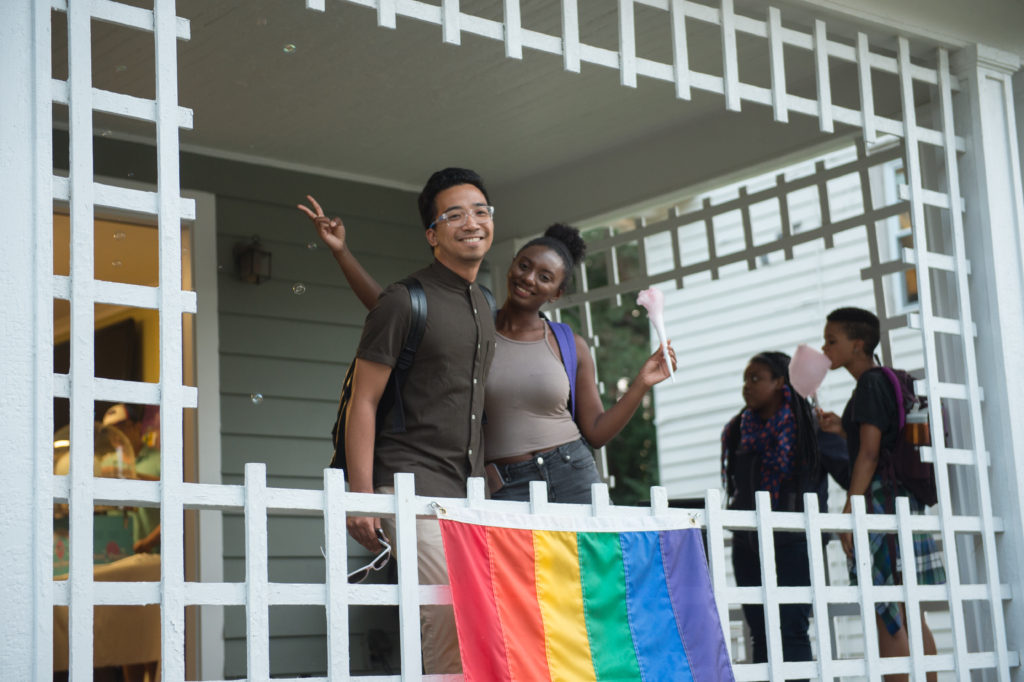 Walking down the promenade on a windy Monday afternoon, the banner above Schine Student Center caught my eye. Schine almost always has a banner above the doorway, advertising a University Union event or bringing awareness to a campus campaign. This one held my attention, because it said, on a rainbow background "Queer and Trans Existence is Beautiful".
LGBT resources and community spaces were not something that I looked into while determining my college of choice, but I have found that Syracuse University has many. The first week of classes, I was able to attend an event put on by the LGBT Resource center, and solidified my first friendships here while sitting on the front lawn eating ice cream at their kick-off Ice Cream Social. I haven't attended many of their discussion groups, because often they are comprised mostly of graduate students, but that first event I went to, where students spilled out the front door of the building and covered the lawn, was a powerful motivator to find more resources and forms of community on campus.
Noah Mendez, a sophomore Forensic Science major, took some time to tell me about his experience with LGBT communities and resources on campus – specifically the LGBT learning community housed in Lawrinson hall. During his freshman year, he was able to meet people like himself, make connections, and feel a sense of community among the members. The friendships he made were lasting, and based on a shared identity. Other past and present members of the learning community comment that, as a freshman, having the learning community was a welcoming way to start their college careers.
Pride Union is a registered student organization on campus for LGBT students. It meets on Friday nights in the Hall of Languages, and it's a great source of community on campus. They also put on some pretty cool events throughout the year: a drag show, which two years ago had RuPaul's Drag Race contestant Milk as a special guest. A less extravagant event that I've always enjoyed was the Pride Union clothing swap, where you can bring clothes that you no longer wear and pick up new clothes that other people have brought to pass. It's great for sprucing up your wardrobe, and getting rid of clothes you don't wear anymore – particularly if you're looking to trade your old blouses for men's button-ups or your jeans for skirts.
Syracuse University has shown me a lot of different places of community and resources for LGBT students, a refreshing and unexpected change from high school GSAs.
Meg Burnard '20 is studying Communication Sciences and Disorders and Linguistics in the College of Arts and Sciences. She grew up in Rochester, New York. Meg is a member of Democracy Matters, and in her free time she enjoys reading comics, going to concerts, and playing games with friends. More blogs from Meg Burnard.
More blogs like this: