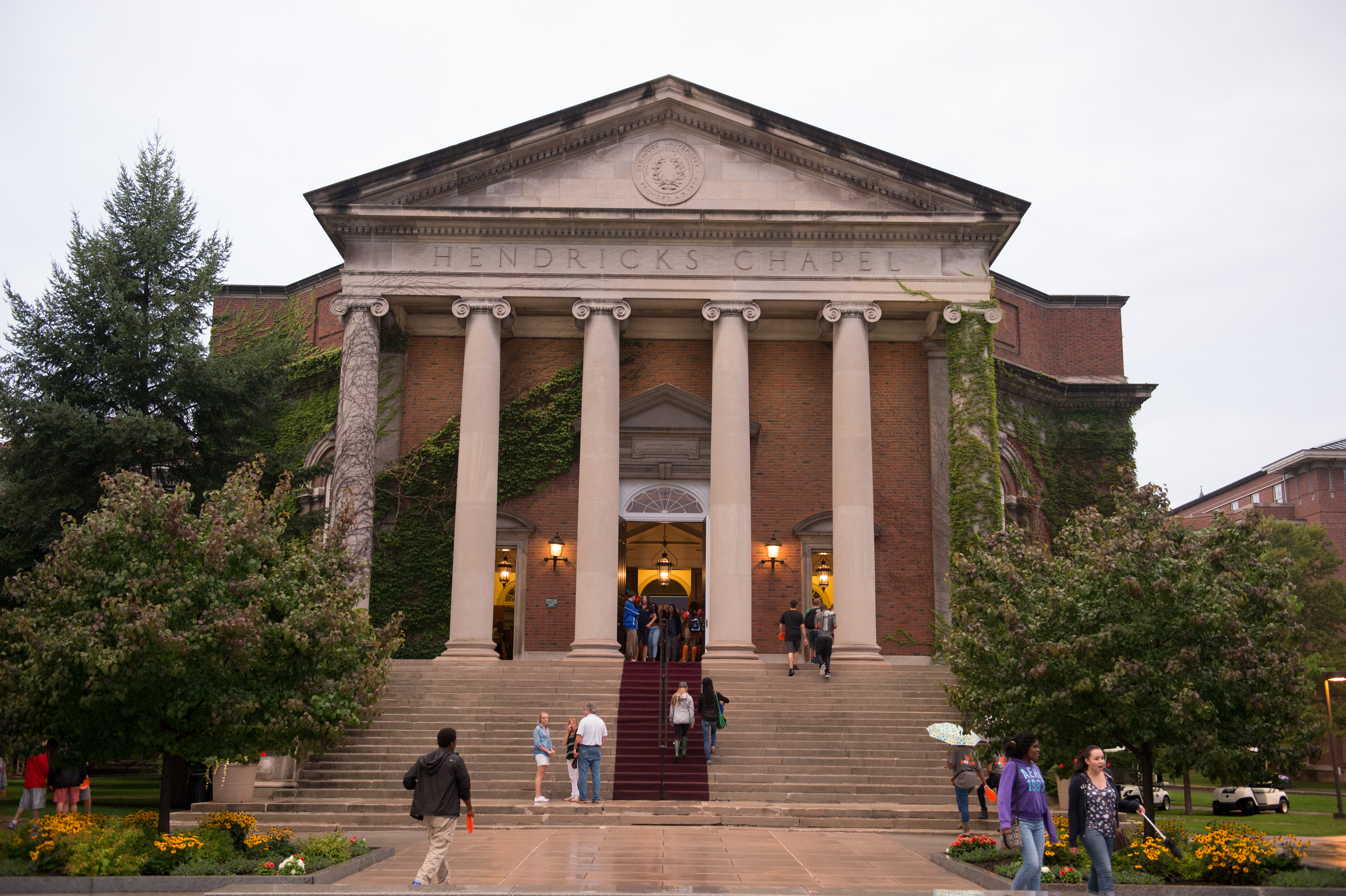 At Syracuse there are so many different ways for students to make campus feel more like home. So far, I have become a part of a few groups— intramural sports teams, community service groups and Literacy Corps— but the community that is most important to me is the one I am a part of at 1 p.m. every Sunday, inside of Hendricks Chapel. As a Christian, Sunday is an important day on my calendar. Not only is it the last day of the weekend and the first day before classes begin, but it is also my time to rest, reflect on the week, and make a plan to improve in the future. A cornerstone of this process happens at the chapel. Nothing helps me gain the focus and perspective to do that more than the Sunday services.
I attended Catholic schools for six years before I came to Syracuse and have spent many years learning about my faith. So coming into my freshman year, finding a community that shared these same values was important to me. Luckily, the process to do so was a lot easier than I thought and I found that community pretty quickly. Within a few weeks on campus, I started going to Hendricks on Sundays. Not only was it great to worship and be around people doing the same, but it also gave me a sense of familiarity and belonging.  After attending my first service, I knew I had found a home. Since that day I've gone back to the chapel on a regular basis.
My experience is not an uncommon one. Many people attend these weekly services at both Hendricks Chapel and the Catholic Center, and I imagine they feel that same comfort that I do. In addition to Catholic Services, the university also offers services for members of many other religions so anyone can practice their faith. Hendricks is also non-denominational, meaning any person of any faith is welcome there. Although I haven't personally attended any other services,  I  have friends that participate. They seem to love them as much as I do. I'm extremely grateful to go to a school that values faith and traditions— it goes a long way in making the students that come here feel at home.
Jalen Nash '20 is studying pyschology in the College of Arts & Sciences. He was raised in Flatbush, New York and attended high school in New Jersey. In his free time, Jalen enjoys playing football and basketball, listening to music, reading, and writing. Jalen hopes to make a living, and be remembered, for his writing. More blogs from Jalen Nash.