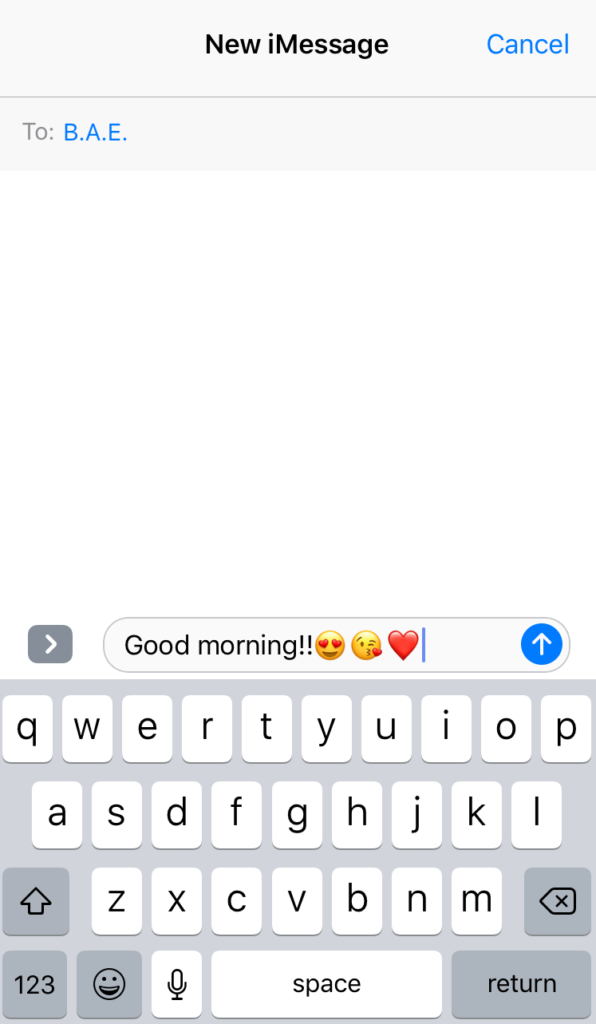 Your college experience will be influenced by the people you connect with and the relationships you build. People often emphasize the importance of starting college with an open mind. While this is great advice, let's be real— everyone is starting this new chapter of their lives with different emotional attachments. Incoming freshmen often feel that in order to enjoy college, they must end their high school relationship –likely due to the widespread idea that previous relationships, especially those that are long-distance, don't work in college. I however, have been in a long-distance relationship during my time at Syracuse and could not be happier. This is the reality for many freshmen entering college. If you want to maintain your relationship as you transition into college, I have found that commitment and communication are key.
Communication is critical.
Freshman year is full of drastic changes, so rather than fight it, be open to your relationship changing as well. You may have always talked on the phone at a certain time in high school, or eaten lunch together every day. That of course can no longer happen. But that doesn't mean your relationship is dead. Shift your perspective and be open to a new normal. Communicate with your partner about what consistencies you need from your relationship and soon you'll grow to cherish the new cadence of you and your partner's routine.
Communication is critical to fostering a healthy long-distance relationship because you are simply not with each other as much as you were before. If there is an issue or you sense any red flags, be vocal about it. The only way to overcome obstacles in any relationship is to confront them directly and talk it out. Establish strong mutual trust with your partner and be open about the new activities in your life. This transparency will ease both of your emotions during times of self-doubt.
You shouldn't feel the need to hold back on joining new clubs, or meeting new people. I have always been proactive in meeting new people and pursuing extracurriculars. Keeping busy doesn't mean I don't miss my partner, but it has allowed me to focus less on some of difficult realities of a long-distance relationship.
Accept that you will feel defeated and vulnerable at times, but be kind to yourself and your partner–this is all part of the process and it's only temporary as you adjust to college life.
Make time to make it work.
Thank goodness we live in a time where technology is so readily available. It has enhanced the way we are able to communicate regardless of distance. Designate a time that works for the both of you to Skype or FaceTime and if possible, make it part of your everyday routine. Though you cannot feel your partner's presence, you are able to hear and see him/her on the screen in front of you. It is inevitable that you will miss your loved one and I will tell you right now, it is not easy. But, take pride in the fact that you miss them and relish it because it means that you have someone worth missing. You share something so special that it makes your heart ache when you count down the days until you see them next. Plan surprise visits to your partner's college or town–I guarantee you that the expression you will see on their face will make all the lonely times worth it.
Little things count.
Lastly, put in the effort. Something as small as a "good morning" text can make all the difference in your long-distance relationship. It is easy to get caught up with academic and social elements of college, but it helps to know that you are both putting in the effort to work on the relationship as a team, even if it is just a quick five-minute conversation. Sending periodic messages, checking in, or updating your partner about little nuances in your day-to-day life are much appreciated. They want to hear about your day and care about the little details, even if you don't think they are worth mentioning. Remember, you are not in this alone; you have both have committed to a long-distance relationship with each other. And because you are not able to see each other all the time, every moment spent together will be that much more valuable than before.
Contrary to popular belief, you can still make your college career count without being single or "tied-down." You know if your relationship is worth it. And if it is, give it a fighting chance as you welcome your first year at Syracuse University.
Eric Chuang '17, is a  Public Relations major at the S.I. Newhouse School of Public Communications with a minor in English & Textual Studies. Additionally, he is part of the Fashion & Beauty Communications Milestone Program. Eric is a California native, dog enthusiast, fervent traveler, and sushi connoisseur. When not taking Buzzfeed quizzes or coming up with clever Instagram captions, he can most likely be found jamming to Taylor Swift's "1989" album. More blogs from Eric Chuang.