Grace chose Syracuse University with the intention of becoming a well-rounded Public Relations practitioner and is working toward her goal while also pursuing an Innovation, Science, and Technology major in the School of Information Studies. This dual partnership awards students the skill sets to learn the principles behind communication while learning to explore the impact of data on society, privacy, and equality.
Hometown: Ashburn, Virginia
Majors: Public Relations in the Newhouse School of Public Communications & Innovation, Science, and Technology in the School of Information Studies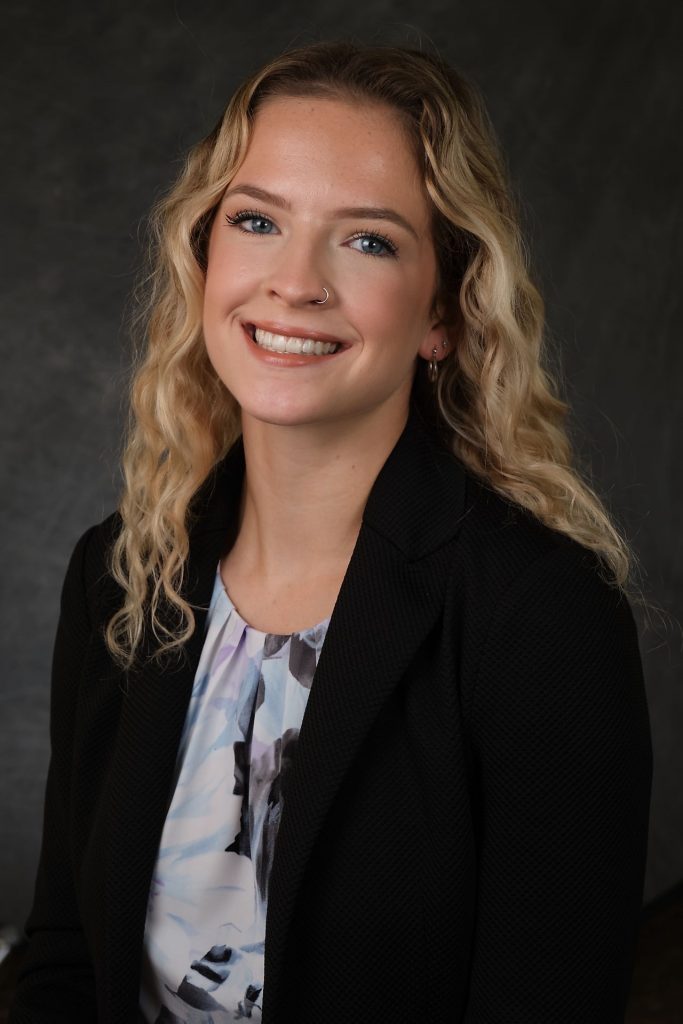 What inspired you to choose Syracuse University?
Going to Newhouse was a large factor I considered when I chose to go to Syracuse. I have always known that I wanted to study communications, and when I visited Newhouse I was so impressed by the college and the programs that were offered. After that, it became my goal to come to Syracuse. I feel that when looking at potential colleges, it is important to really research the program(s) you are interested in and see if it would be a good fit for you.
I visited Syracuse in October when the weather was so nice, and campus looked beautiful with all the leaves changing colors on the trees. I visited on a prospective student day, and it was one of the best college tours I went on. I visited with my mom and grandmother, and we went and had dinner together at Pastabilities downtown after walking around campus all day. It was a combination of such an amazing tour and visit, as well as the admiration I had for my prospective program that made me so excited about Syracuse.
What major(s) are you pursuing and what inspired you to choose these areas of study?
I am a dual-major studying public relations in Newhouse and innovation, society and technology in the School of Information Studies with a concentration in web design. I chose to study public relations because I've always been interested in writing. Communication has always been a skill I have possessed, and I've known I want to pursue a career that utilizes that. Public relations is essentially how a company communicates with the public and their constituents. This is a very broad definition and it encompasses much more than I originally associated with public relations. I chose to study this at Newhouse because it was the major I was most initially drawn to. I knew that if I didn't enjoy the major-specific classes, I always had the opportunity to switch programs. I feel that the curriculum is so all-encompassing at Newhouse that you are exposed to many opportunities in the communications industry after graduation regardless of what your specific degree is in.
As for innovation, society and technology, I had never planned on studying technology. It was when I came to Syracuse and took IST 195, an introductory class, that I really started to develop an interest in the field. Everyone I talked to that was studying in the School of Information Studies absolutely loved it and I enjoyed the energy that students had when they talked about it. After taking that one class, I decided to dual-major and have really taken to it! Innovation, society and technology is a new major and is an interesting intersection of technology development and its interaction with society as a whole. I have found that this major is also very all-encompassing and has allowed me to learn a variety of different skills related to the technology industry ranging from coding and web development to human-centered design.
What has been your favorite class at Syracuse and why?
My favorite class in Newhouse has been PRL 376, Content Optimization for Public Relations writing. This course is essentially a semester long project working with classmates for a real-life client. Over the semester, your team plans and develops a comprehensive social media strategy for the client with a final presentation at the end of the semester. I enjoyed this class because it was very hands-on and provided valuable experience working for a real client.
In the School of Information Studies, my favorite class has been IST 263, Intro to Front End Web Development. I enjoyed this class because I have discovered I have a natural talent for coding and enjoyed learning HTML. Web development is a combination of practical programming and web design, which allows for both critical thinking and creativity. The final project was an entire website developed and designed by every student. I loved having the creative freedom to design the website however I wanted to, and I felt accomplished at the end of the year after applying all the skills I had learned with HTML programming.
Can you share what you're involved in outside of the classroom and provide details on your roles in these organizations, clubs, and projects?
Outside of the classroom, I am primarily involved with Hill Communications, the student-run, on-campus public relations firm. I have been with Hill Communications for three semesters now, and I have been promoted to an account supervisor. As an account supervisor, I oversee a team of other students to provide public relations services to a real-life client. This has been an incredibly rewarding and challenging experience. In addition to the work you complete for clients, Hill Communications also provides learning and networking experiences across the firm.
Additionally, I work as a remote marketing assistant for a small cooking school business. As a marketing assistant, I design and edit the company website, write, and design company newsletters and develop creative materials. I was referred to this remote job by a colleague that I met while working for Hill Communications! For the past two years, I have also worked at the campus bookstore. This upcoming semester, I am excited to be a student ambassador at the School of Information Studies and will speak and engage with prospective students. Getting involved on campus is a great way to further your professional development, learn skills you might not learn in the classroom and meet new people!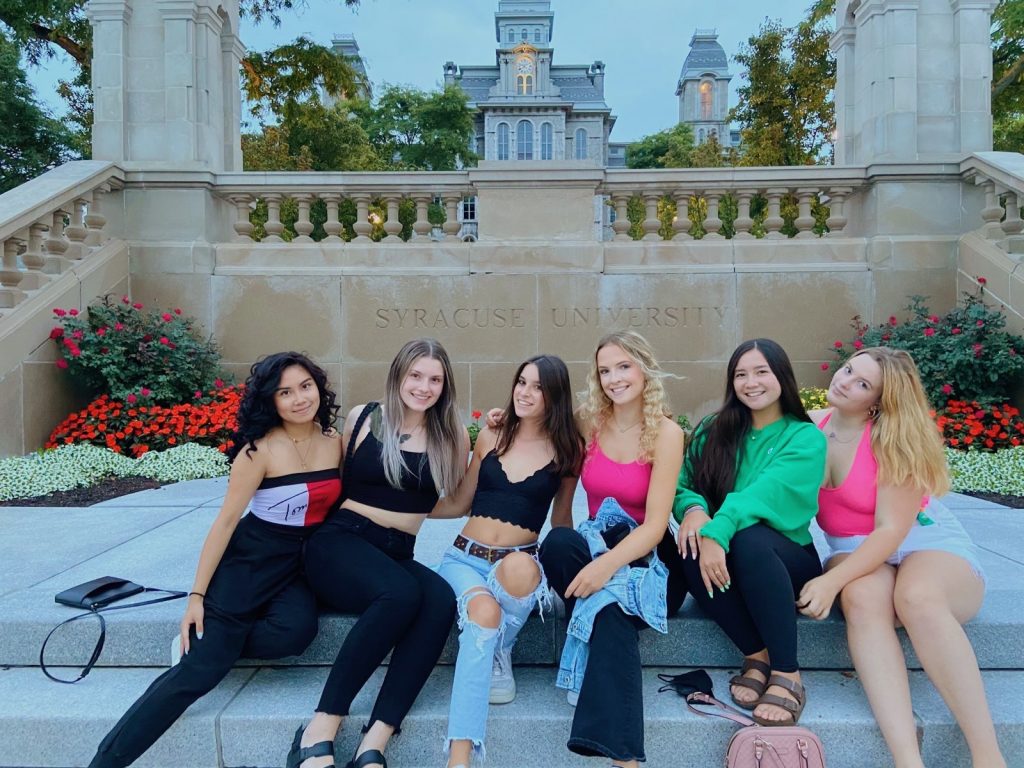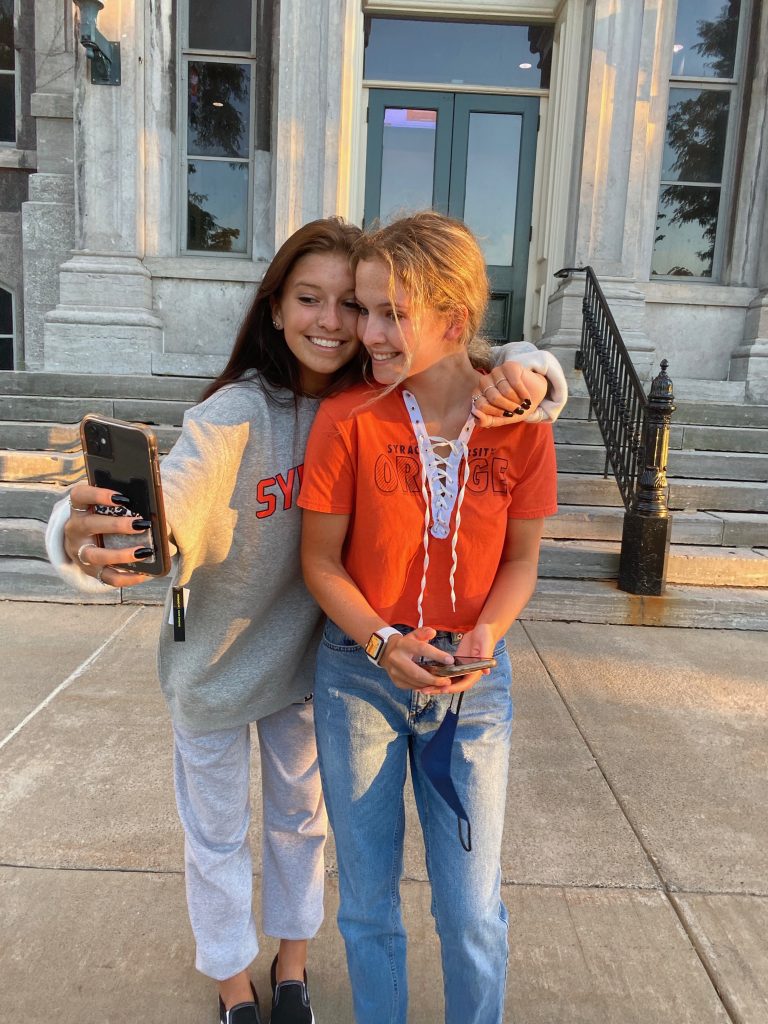 What is your favorite on campus location and preferred off campus location to eat, study, or relax?
My favorite on campus location to study is Bird Library. I like to use the large computer monitors that are there. There are many different levels offering various types of seating and quiet areas. This is my go-to place when I need to sit down and get work done! Off-campus, you can't go wrong studying at a local coffee shop such as Cafe Kubal.
On campus, I almost always eat in the Schine Student Center. I am addicted to Core Life and tend to wait in the line no matter how ridiculously long it gets. I also am frequently at the gym, and love to get a smoothie at the smoothie bar on my way out. Off-campus, my all-time favorite restaurant is Pastabilities. This is a great food option for when your parents want to come visit and you want to go somewhere nice! A more casual favorite is Original Grains in downtown Syracuse which has healthy salads, sandwiches and grain-bowls.
When it comes time to relax, I am often energized and de-stressed by going to the gym! The Barnes Center has an amazing weight room where you'll find me most days. Whenever the weather is nice outside, you can find almost everyone on campus relaxing outdoors on picnic blankets or with hammocks. Off-campus, there are some wonderful spots close by to visit on the weekends. I love Green Lakes, a close park to swim in or hike around. Beak and Skiff is a wonderful apple orchard with delicious food to visit in the Fall! Additionally, there are several ski mountains close by for winter activities.
What classes will you be enrolled in for this upcoming fall semester?
This upcoming semester, I am enrolled in six classes. Three are School of Information Technology classes, two are for Newhouse and one is a general elective towards my arts and sciences credits. My School of Information Technology classes are "What's the Big Idea?," "Intro to Information Security," and "Intro to Database Management Systems".
My Newhouse classes are "Public Relations Research" and "The Ethics of Advocacy". My arts and sciences class is "Introduction to Women's and Gender Studies". I love how I got to set up my schedule this semester – I don't have any Friday classes and get to sleep in most days of the week! Everyone will take a different number of credits and have a different schedule depending on what they need for their degree as well as their personal preferences.
What advice and tips would you give to prospective School of Information Technology/Newhouse dual majors?
Don't be intimidated to pursue both communications and technology! It may seem like a lot of work initially, but it will seem like much less of a load if you are interested in both areas of study. I thoroughly enjoy most of my classes at both schools, and if you do find yourself in a position of struggle, there are so many resources at both schools to help you succeed. Take advantage of the career center, extracurriculars and your professors. The faculty and advisors are here to help!
Being a dual-major requires setting priorities, being organized and staying on-top of your academics. When you are feeling demotivated, think about why you are pursuing your degrees and remind yourself of the goals that you have for your future. One thing I do every day is write down three things I am grateful for. This helps to keep me grounded and reminds me of things I am fortunate to have in my life even when I am feeling stressed out. Keep an agenda and write down key dates and important projects so that you are never caught off guard by assignments. Finally, make friends in your classes and don't be afraid to ask for help! Everyone needs help sometimes, and it is much better to be curious and seek help than to suffer in silence.
What is your dream job and goal(s) after graduation?
I am still figuring out what my dream outcome looks like. I am currently interning at a large non-profit as a marketing and media relations intern. Interning is a great way to figure out what you enjoy doing and see what type of work environment is a potential fit for you! I hopefully plan to get an internship related to my School of Information Technology major next summer so I can see how it compares to my current communications internship. I would say my dream job is something that combines both of my degrees since I have such a passion and interest for both. I would also love to work in an industry that I have personal interest in. One industry I would love to work in is the beauty industry since makeup is a big hobby of mine!
Some long-term goals include eventually working in a leadership position. I have a knack for leadership and enjoy leading teams. Another very important goal of mine is to be happy with the work that I do. My parents have always instilled in me that enjoying your job is so important to get the most out of your life. No one should spend such a large amount of time doing something that doesn't add value to their life. I am excited for my career after graduation and know that I cannot plan exactly what my career path will look like; it is important to take opportunities as they come and work towards your goals over time. Finally, regardless of your career goals, make sure to enjoy your time in college and don't wish the time away; it will be gone before you know it.