Many colleges and universities look at a student's demonstrated interest, or the evidence they have taken steps to conduct research and connect with the institution, into account when reviewing applications.
Here at Syracuse University, the Admissions Committee does consider demonstrated interest during the application process, along with many other factors as part of our holistic review process! We believe that students who take the time to explore all that Syracuse has to offer better understand if the University will be a good fit for the undergraduate experience they are seeking. Read on to explore some of the ways you can demonstrate your interest in Syracuse, no matter where you live!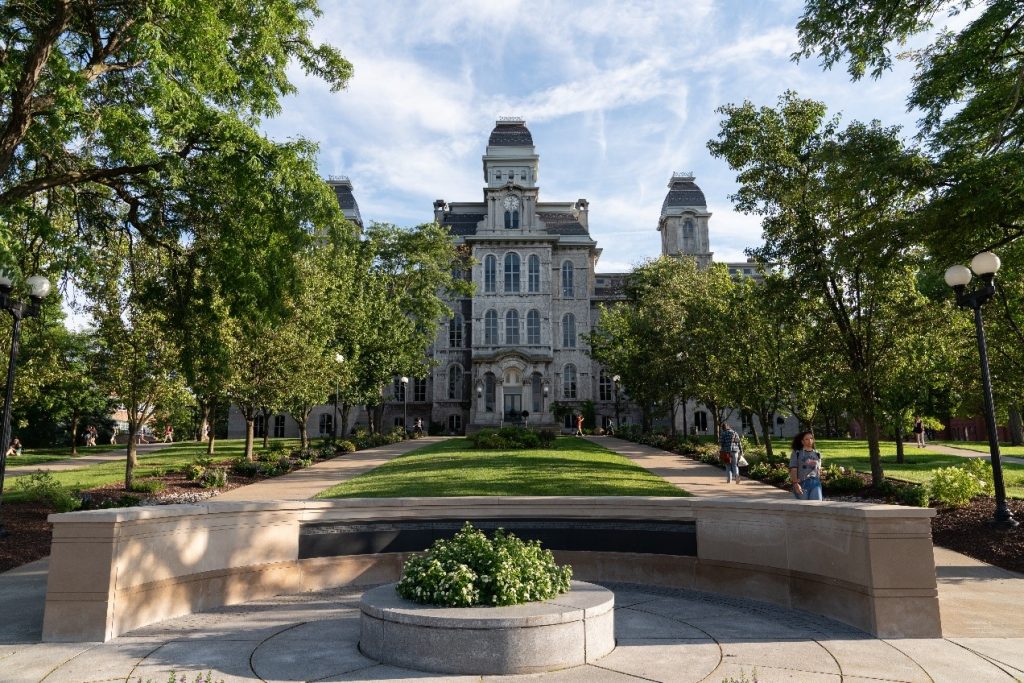 Attend a Virtual Information Session
Register for and attend one (or more!) of our general or themed virtual information sessions to learn more about Syracuse. Not only will these sessions offer invaluable information about the University, but you'll also be able to get any questions you have answered by an admissions counselor or current student.
Take a Tour
Schedule a visit and see Syracuse University's campus firsthand! You'll get to sit in on a 30-minute information session and then head out on a small-group walking tour. At the conclusion of your student-led tour, you can also meet with one of our 10 undergraduate schools and colleges.
Can't make it to Syracuse? We've made it easy for you to take a look at our buildings and grounds via our virtual tour!
Register for a Virtual Interview
Syracuse offers optional virtual interviews via Zoom for high school seniors and transfer students. An interview is a great way to personalize your application and ask questions of our admissions staff.
Connect with your Admissions Counselor
Our admissions counselors travel far and wide to spread the word about Syracuse University, so be sure to check to see if a virtual or in-person visit will be scheduled with your high school this year. We also welcome you to contact your admissions representative via email with any questions you might have!
Ask Questions
Asking questions is one of the best ways to figure out if Syracuse is a good fit for you. Chat in your questions during our virtual sessions or contact the Admissions Office to let us know how we can help!

Students collaborate outside of the Schine Student Center.

Research
Engage with our website to learn more about our 10 undergraduate schools and colleges, 200+ majors, 100 minors, and 300+ student organizations!
Engage with Programs of Interest
Is there a school or college at Syracuse that interests you, or perhaps a particular dual program, major or minor? Connect with representatives from our schools and colleges through a virtual session, email, or a phone call! They are eager to learn more about you and discuss which programs might best suit your interests.
Take Time with Your Application
Spending adequate time preparing your application is a great way to convey your interest in Syracuse. Be sure you've researched our undergraduate programs and are making an informed decision when listing your first and second choice academic programs on the Common Application. You'll also have a chance to tell us why you're interested in Syracuse University through our short answer question and we're eager to read what you have to say!
Discuss Your Interest in Syracuse with your Teachers and Counselor
Your teachers and counselor will submit letters of recommendation on your behalf, so it is always a good idea to let them know why you're interested in Syracuse. Help them understand why you feel Syracuse is a good fit for you so they can advocate on your behalf!
Apply On Time
Whether you apply Early Decision or Regular Decision, ensuring that you submit your Common Application and supporting documents on time is a great way to convey your serious interest in Syracuse. After you submit your application, be sure to check your MySlice account to monitor for missing documents and read your emails from Syracuse to stay up to date!